What do you do with fruit that is going bad?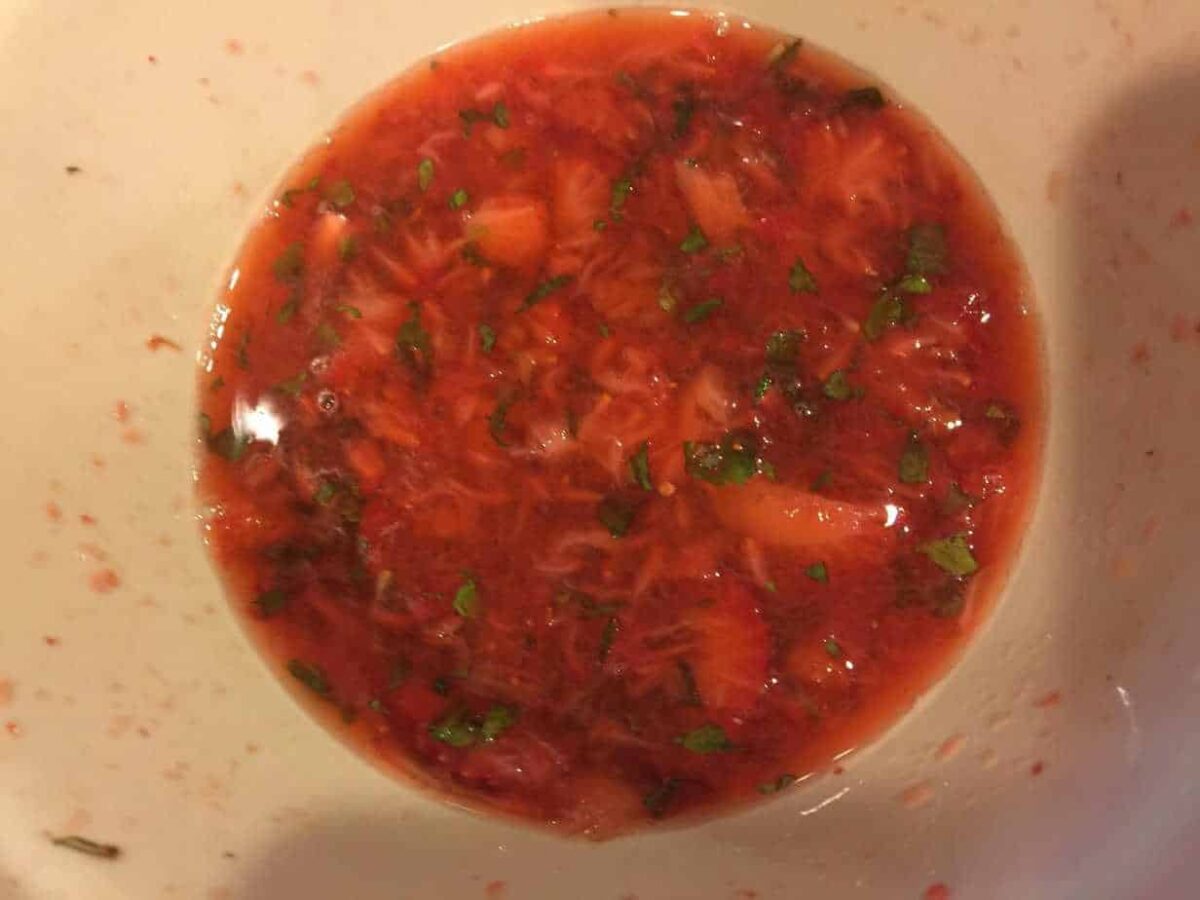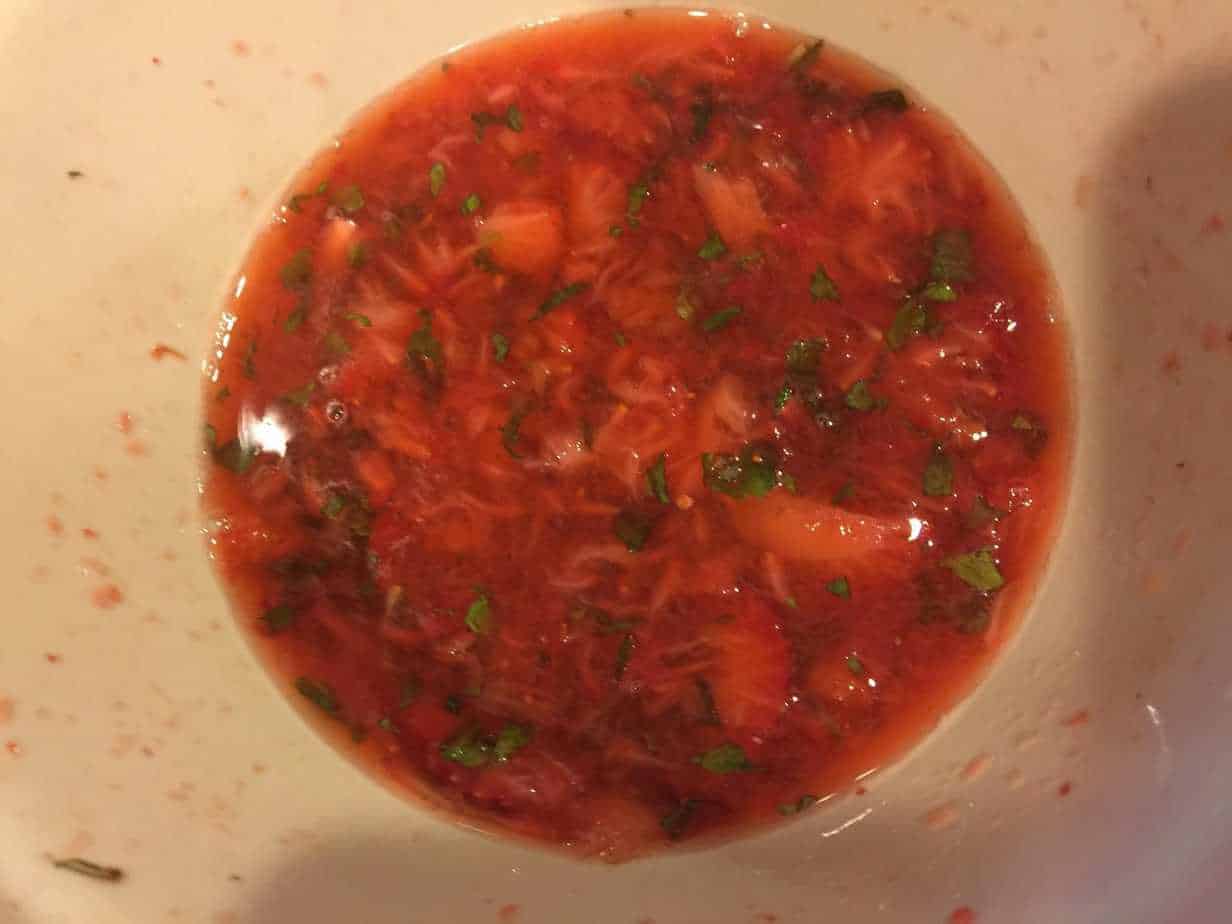 The raspberry and blueberries at work have been going bad because the bar doesn't use them fast enough and because we don't have regular use for them in the kitchen.
I hate seeing the product going to waste (which is another article in and of itself) so during a slow period at work, I decided I was going to make something out of them before they completely rotted.
Jam is usually the top contender when it comes to saving dying fruit and although I enjoy making it, I wanted to do something better. Something I have never done before. I got on the Google Machine and searched for inspiration. I came across a few jam recipes (told you) and just kept scrolling until I found it. Shrubs. YES! I love a good cocktail almost as much as food.
Okay. It's probably 60/40, quite possibly 50/50.
I've been in love with drinking vinegars since that time we ate at Pok Pok. It's a great place and you should try to eat at one of their locations. (NOT a paid advertisement). Anyway, yes, I've been in love with drinking vinegars for a while now. Done. I was going to make some shrubs.
The first one I did was a blueberry-thyme shrub using champagne vinegar. The trick is to not boil the vinegar or the ingredients you are infusing. You want them to keep their color and flavor. Just bring the solution up to the point where the sugar melts. One of the bartenders at work took the blueberry shrub and tested out cocktails with it. Pretty delicious if you ask me!
I ended up making a wee bit too much thyme-infused champagne vinegar so I decided to move on to the raspberries. I macerated the berries (as I did with the blueberries) and then added the vinegar to it, and gave it to the same bartender and he tested it out on a few cocktails. It was a gin, grapefruit something something something...delicious. He asked if I had anymore because he was doing a competition and if it did well, it was going to be on the restaurant menu. I gave him the rest and said good luck!
Turns out the cocktail was a hit and it will now be added to the menu and we will need to make raspberry thyme shrubs for the bar…
Strawberry Lemonade and Mint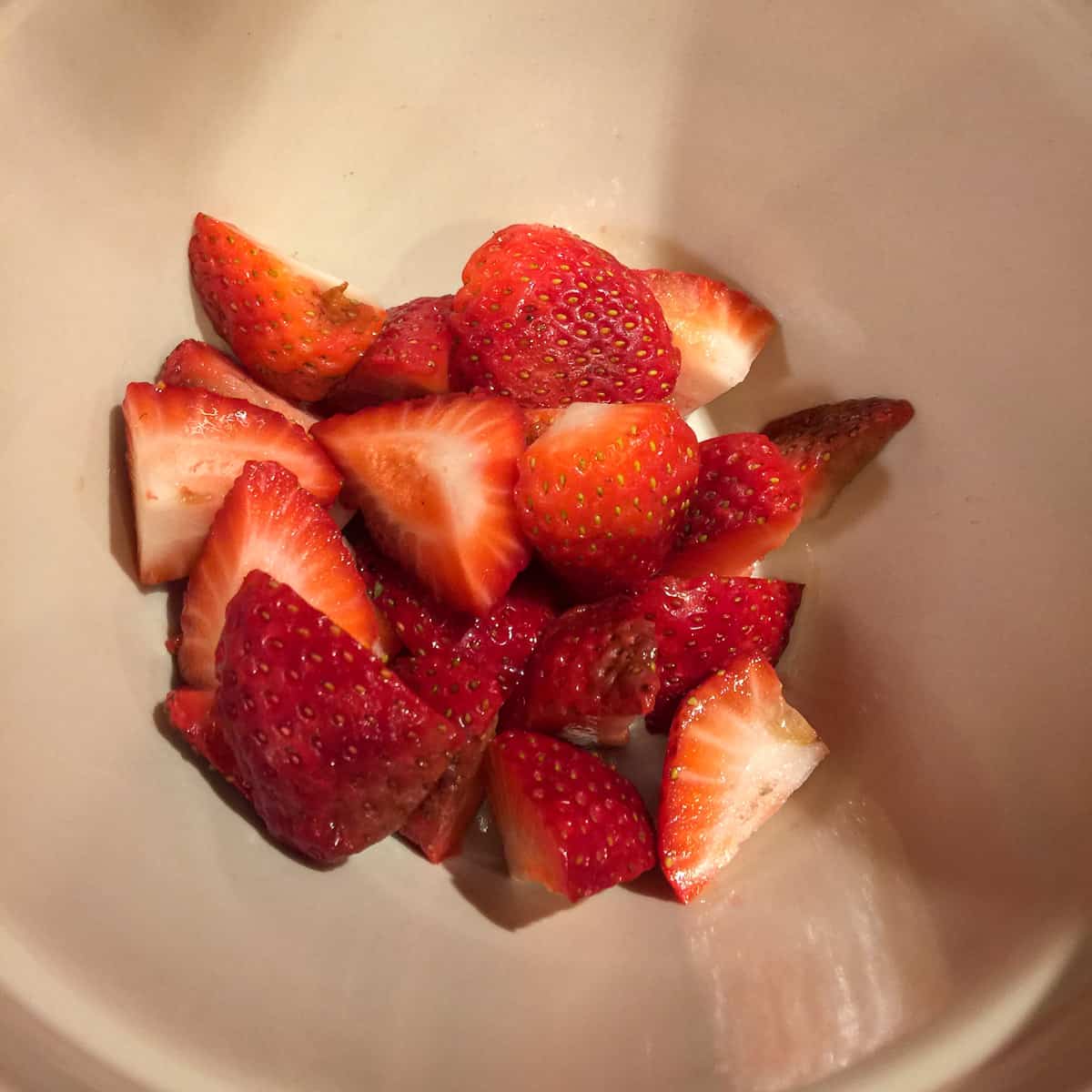 On my recent day off, I wanted to have a nice cocktail (because I was out of wine) and I had some strawberries that were starting to go bad so I decided to make a strawberry shrub with them. When I opened the refrigerator door, I saw the leftover mint that was going bad so I figured, two birds, one stone. Right?!
I quartered the strawberries and chopped up the good mint and covered them with sugar and let them do their magic for a few hours. I didn't have any champagne vinegar so I used a mixture of white wine vinegar and apple cider vinegar. Next, I was going to need some simple syrup so I whipped up a batch and let it cool while the strawberry-mint-sugar was still working away.
When it was all said and done, I strained the strawberries, grabbed the vodka, grabbed the simple syrup, and a lemon. I went to grab the ice and WHAT?! The ice maker didn't have any ice in it. Seriously? Fine. I can adjust. I just grabbed my ice balls and crushed them with the rolling pin. Beat that ice maker.
I mixed everything together in a shaker and poured it. I added some seltzer water and squirted some lemon peel into the drink. BAM. Strawberry Lemonade Mint cocktail.
It was so good. A little on the sweet side but nothing either more vodka or seltzer wouldn't fix…
Also, you'll have to forgive me for the photos. I forgot to take a picture of the process...something I'm working on...Take the recipe and make it your own! It's worth it.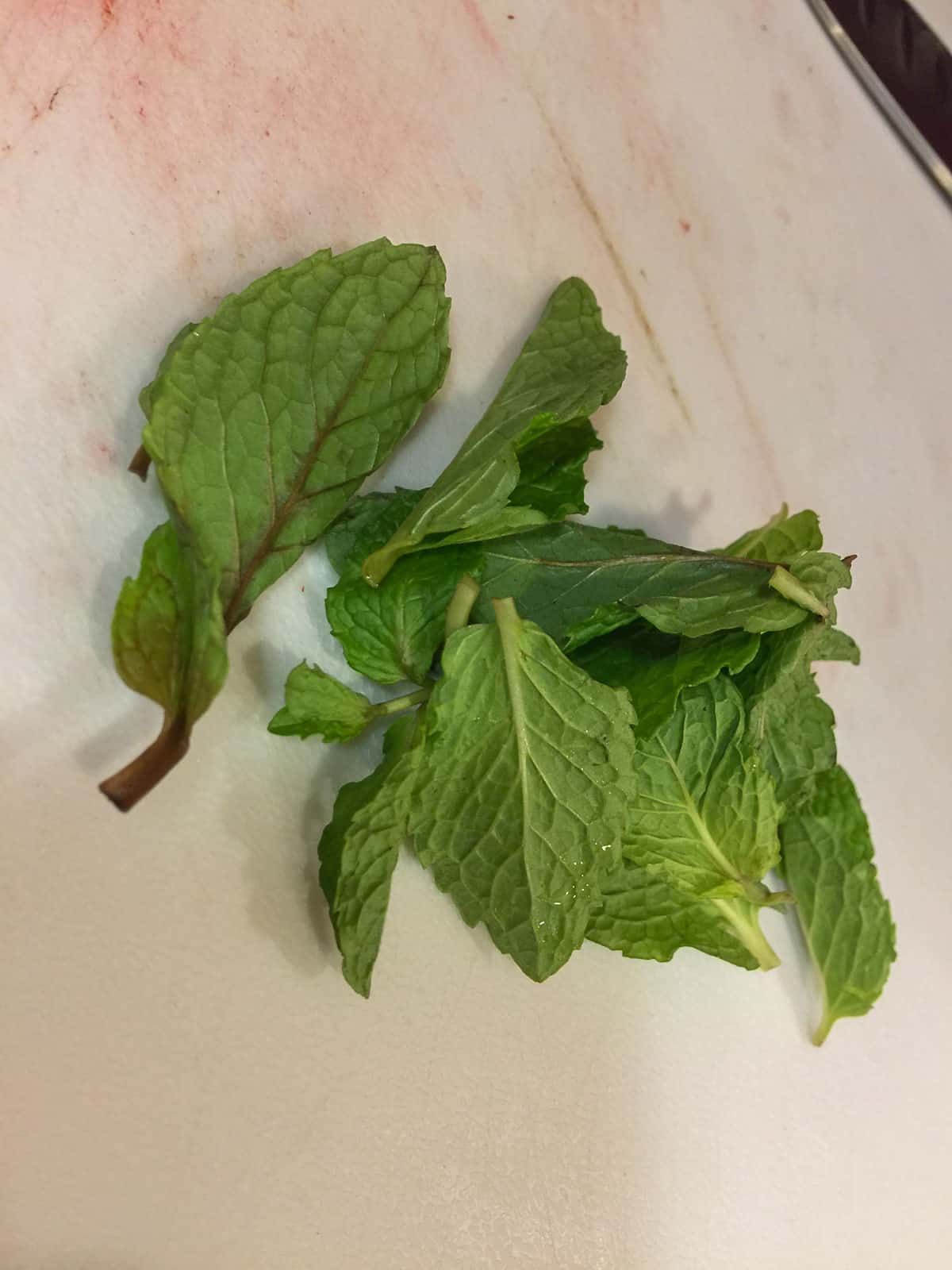 If you tried the Strawberry Lemonade Cocktail recipe, please take a minute to rate the recipe and leave a comment letting me know how you liked it. Follow me on Facebook, Instagram, Pinterest, YouTube, and Twitter. Tag me with #joeeatsworld
📖 Recipe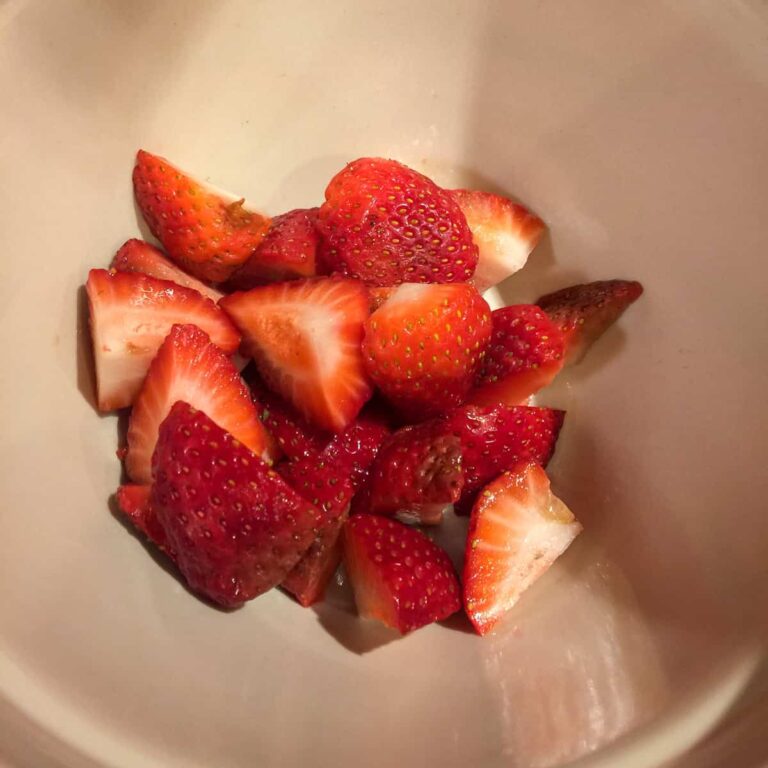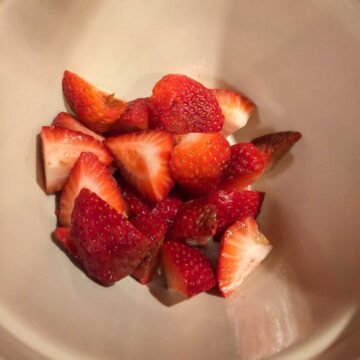 Strawberry Lemonade Mint Shrub & Cocktail
Drinking vinegars really elevate your cocktail hour. They add a level of depth to any beverage and really make them pop with flavor.
Print
Pin
Rate
Ingredients
For The Shrub:
¼

cup

Strawberries

10

Mint leaves

⅓

cup

granulated sugar

1

cup

White Wine Vinegar

,

or Champagne Vinegar
For the Cocktail
¾

oz

Shrub

1

oz

Vodka

,

(probably increase to 1.5 oz)

½

lemon

,

juiced, use the peel for garnish

¾

oz

Simple Syrup
Instructions
For the Shrub:
Wash, hull and cut strawberries into quarters.

Rinse mint, stack on top of each other and chop.

Combine strawberries and mint into a glass or plastic bowl.

Add sugar to strawberries.

Cover and refrigerate for a minimum of 4 hours to 24 hours. The longer they sit, the more juice you will get.

After at least 4 hours, add vinegar and mix thoroughly. Adjust flavor here. If it is too vinegary, add some sugar. If it is too sugary, add some more vinegar. It comes down to your taste preference. I enjoy a little more vinegar solution.

Strain the strawberry mixture through a fine mesh strainer. (You can also use cheesecloth.)

Use immediately or store in the refrigerator until ready to use.
For the Cocktail
Combine all liquid ingredients into a shaker filled with ice.

Shake and strain into a chilled martini glass.

Garnish with a mint leaf and piece of lemon peel.
Disclaimer: I may earn a commission from qualifying purchases through the Amazon Affiliate program and other affiliate links at no additional cost to you.
Notes
I use White Wine Vinegar or Champagne Vinegar because it is light in flavor and compliments most fruits. I also use a lot of seltzer water because it has little to no sodium whereas club soda is usually high in sodium.
Cuisine:
American, Italian, Mediterranean, Middle Eastern
Keyword:
drinking vinegar, shrub