My chocolate truffles recipe makes the best bite-sized treats. I've made this recipe a few times because they are so easy. You can use this as a base and build from there.
I usually make these candies as part of my Christmas candy giveaways. The trouble is, I usually pop one in my mouth every time I walk by the kitchen. They're dangerously good.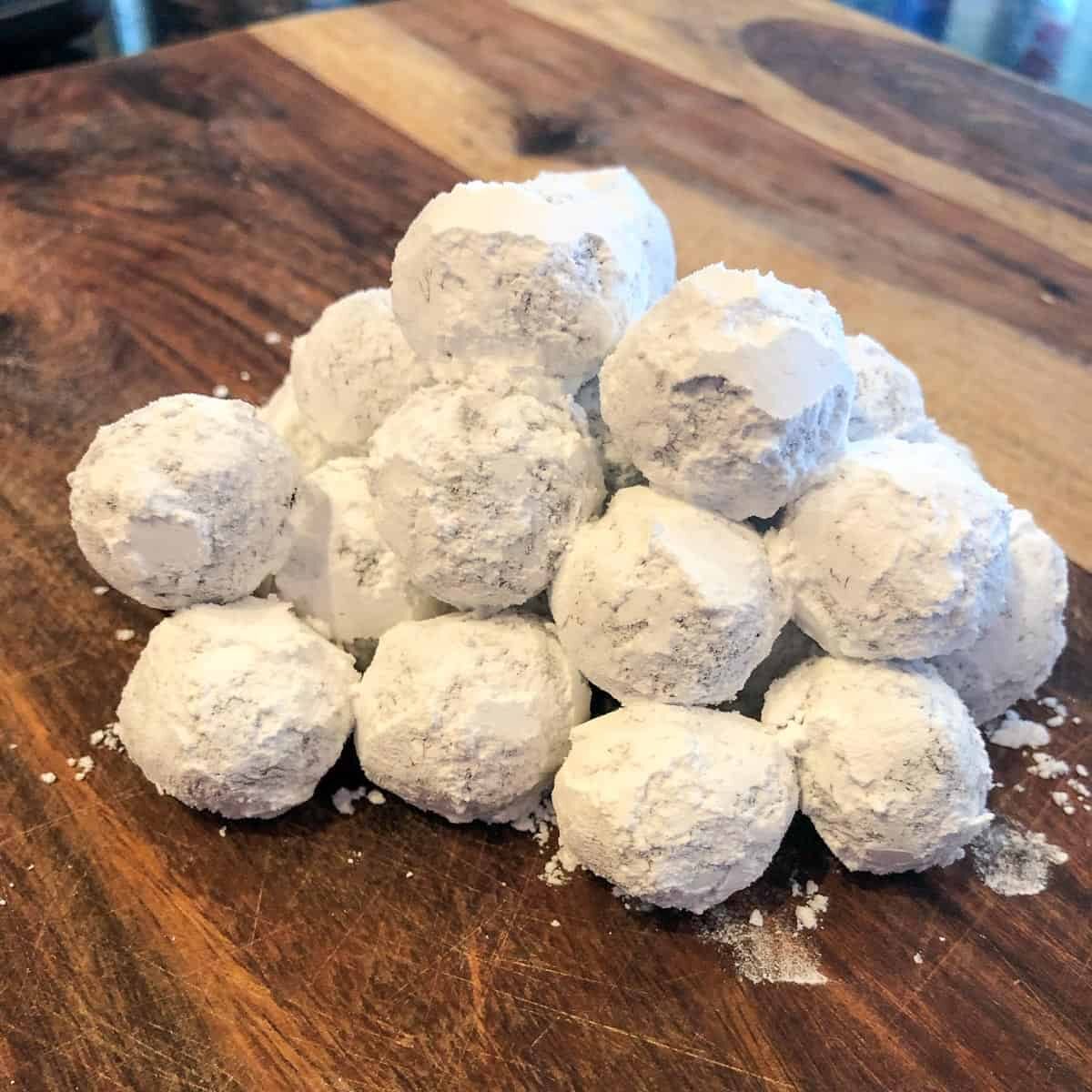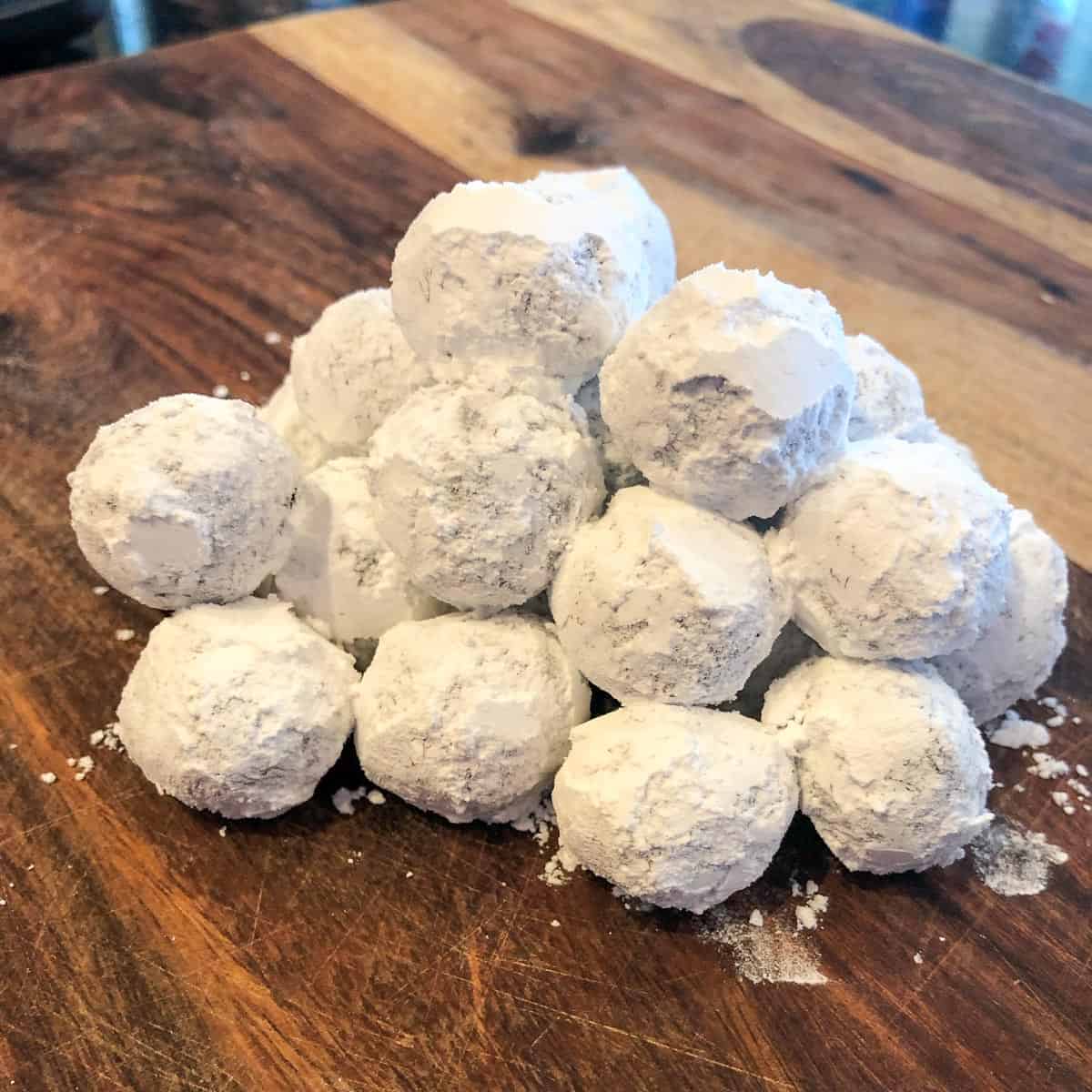 What is a chocolate truffle?
If you have never had a chocolate truffle, you are going to be in for a treat! This chocolate candy originated in France but quickly spread to various parts of the world. Most notably, Belgium, Switzerland and the United States.
Each has their own take on the chocolate confectionery. They come in all shapes and sizes too. You can add pretty much anything for garnish, and by garnish, I mean what toppings. You can add chopped nuts, sprinkles, coconut, or anything you can think of. The recipe I am using is just plain powdered sugar.
How to make chocolate truffles
Making chocolate truffles has to be one of the easiest things to do. You are using a ganache base for the truffles and you flavor it with vanilla, salt, or you could even throw in some peppermint extract. The use of butter is two-fold. On the one hand, it helps solidify the ganache and hold its shape. On the other hand, the butter adds to the smooth silky texture.
Melt the chocolate chips
The first thing you want to do is place all of the ingredients except the cream into a heatproof bowl. Then you want to bring the cream up to a low-ish boil.
Once you get the cream hot, carefully pour it over the chocolate chips and let sit for a few minutes. Gently whisk the cream and the chocolate mixture together until all the cream is incorporated into the chocolate, this is called chocolate ganache. Place the ganache in the refrigerator for at least one hour so it will set, or harden.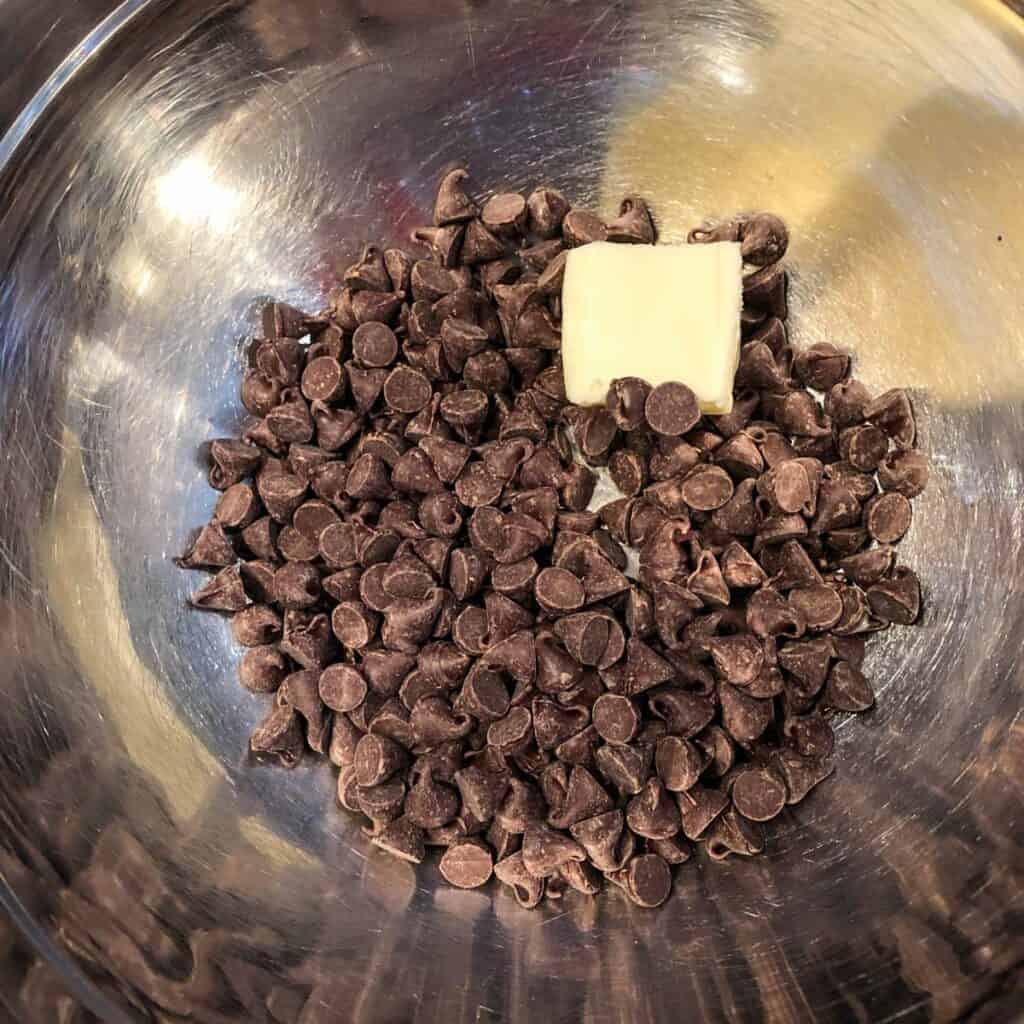 Rolling out chocolate truffles
Once the ganache has set, we will need to work quickly so the chocolate doesn't become warm and begin to soften. Remember, there's butter in there and will soften at room temperature.
Place parchment paper down on a cookie sheet.
Use a scoop or a small scoop to scoop out 1 to 2 ounce balls.
Roll the chocolate into a ball and place it on the parchment paper.
Once all of the chocolate has been rolled out, place them back into the refrigerator for 30 minutes to firm back up.
While the chocolate truffles are setting, prepare your garnish. I used powdered sugar just as a base recipe and you can also use cocoa powder. You can melt some chocolate in a double boiler and dip the truffle balls into the chocolate for a hard candy coating. If you're feeling really adventurous, you could then roll those chocolate covered truffles in some coconut, or rainbow sprinkles.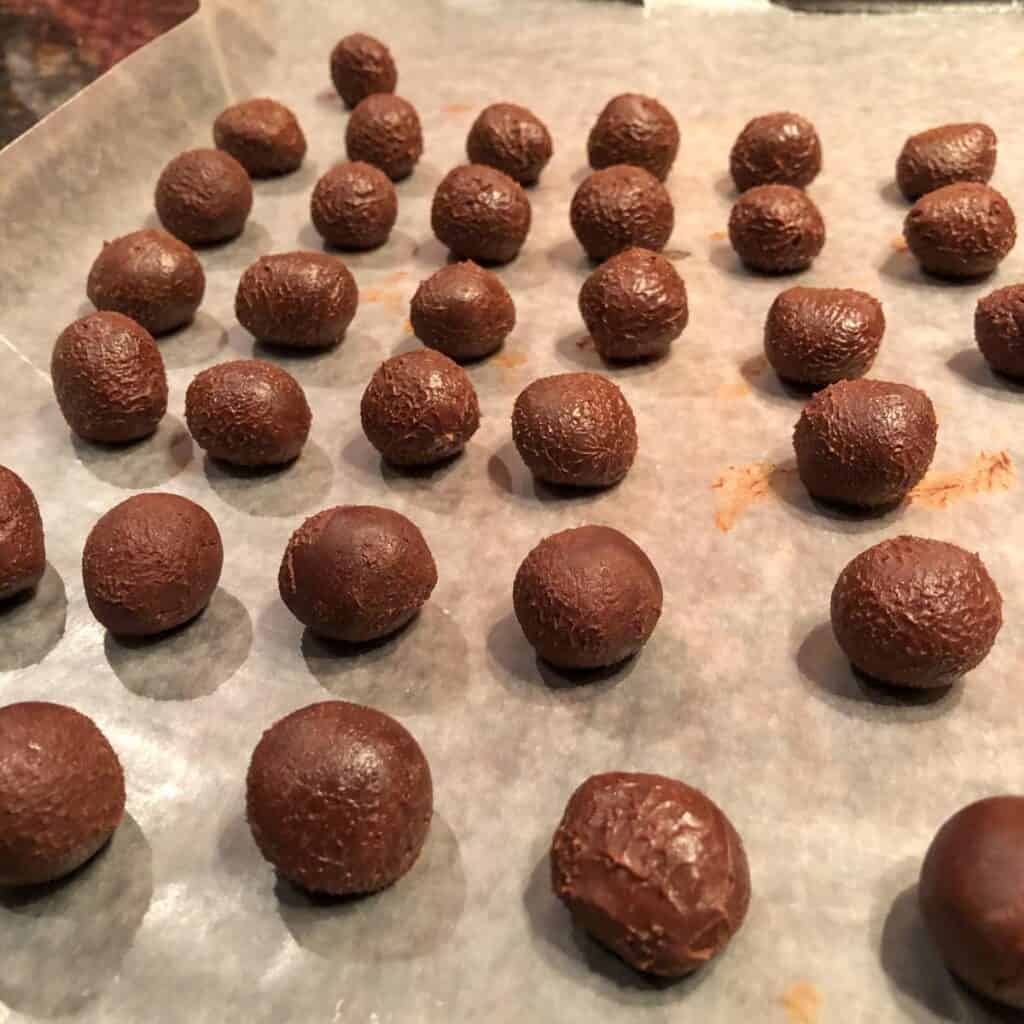 You'll also love these chocolatey recipes
Homemade Fudge - One of the best (and easiest) fudge recipes out there!
Helpful Hints
Instead of rolling in powdered sugar or cocoa powder, dipped your chocolate truffles in melted chocolate for a hard candy coating.
Keep refrigerated to keep the truffles from melting or becoming too soft.
If you tried the Chocolate Truffles recipe, please take a minute to rate the recipe and leave a comment letting me know how you liked it. Don't forget you can also follow me on Facebook, Instagram, Pinterest, YouTube, and Twitter. Tag me with #joeeatsworld
📖 Recipe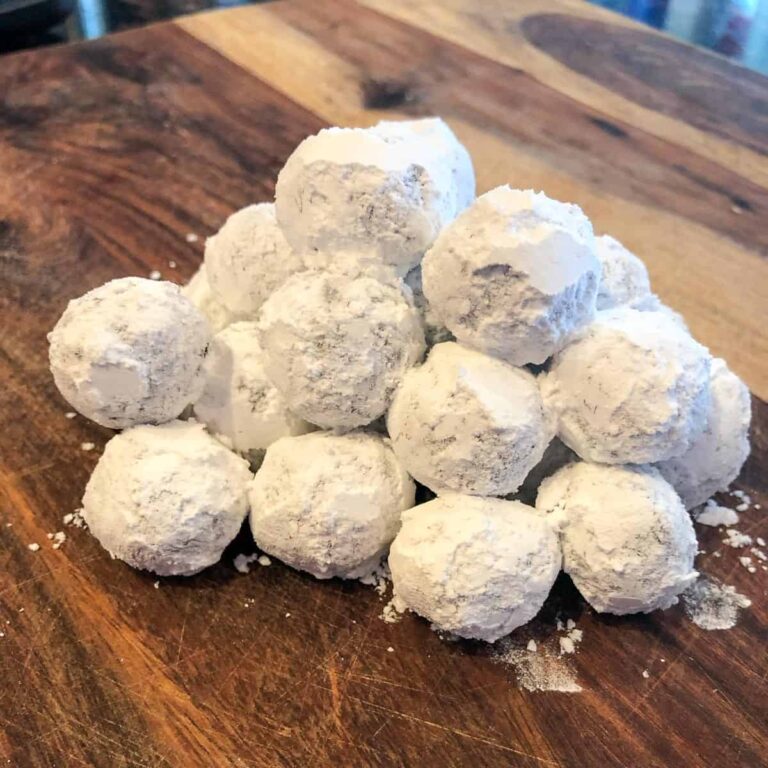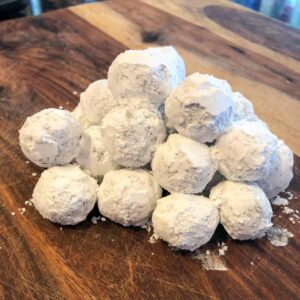 Chocolate Truffles Recipe
Simple and decadent chocolate truffles that you can make at home. An easy and fun dessert treat.
Print
Pin
Rate
Ingredients
1

Cup

semi-sweet chocolate baking chips

½

Cup

Heavy cream

1

Tablespoon

unsalted butter

¼

Teaspoon

kosher salt

½

Teaspoon

vanilla extract
Garnish
1

Cup

powdered sugar

,

(optional)

1

Cup

Cocoa powder

,

(optional)
Instructions
Place cream in saucepan and heat to just under a boil.

Place all ingredients, except butter, into bowl.

Carefully pour the cream into the bowl of chocolate and ingredients. Let sit for 3 minutes.

Whisk ingredients until all chocolate is melted and cream is incorporated.

Place mixture in the refrigerator and allow to set for 1 hour. (If after an hour the mixture is too soft, leave it in the refrigerator for another hour).

Place parchment on the countertop or onto a cookie sheet.

Once the truffle has set, scoop out 1-ounce portions and roll into balls.

Return the balls to the refrigerator for an additional 30 minutes.

Remove truffle balls from the refrigerator and roll into powdered sugar and/or cocoa powder.
Disclaimer: I may earn a commission from qualifying purchases through the Amazon Affiliate program and other affiliate links at no additional cost to you.
Equipment
Notes
Instead of rolling in powdered sugar or cocoa powder, dipped your chocolate truffles in melted chocolate for a hard candy coating.
Keep refrigerated to keep the truffles from melting or becoming too soft.
Keyword:
chocolate, cocoa, ganache