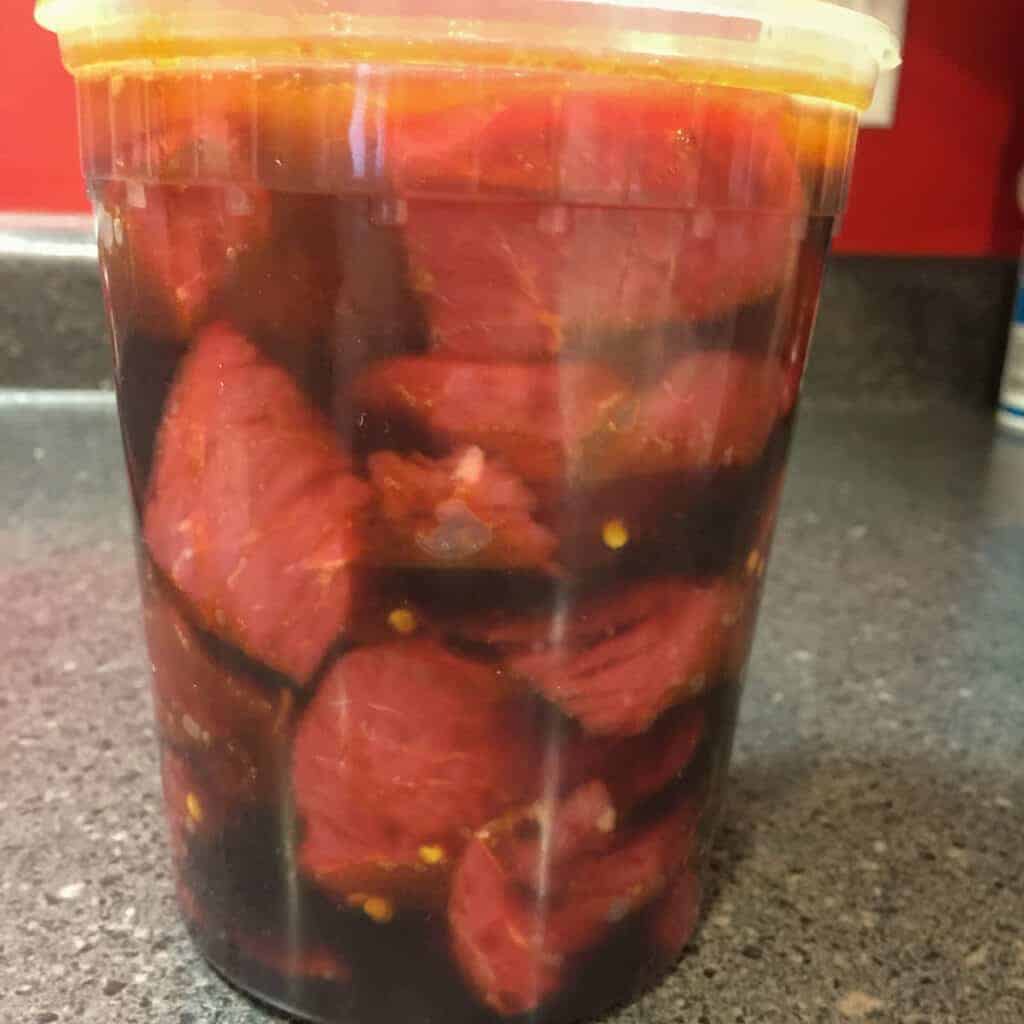 When I worked at the fine dining restaurant, we did a tartare that was amazing. The marinade was my chef's version of a poké and a tartare rolled into one. Instead of the traditional fish, we used diced beef tenderloin. As part of the pantry repertoire, I was responsible for preparing the dressing and the beef.
The dressing could sit for however long you needed it. The tenderloin was a medium dice and then vacuum packed to avoid oxidization. You never wanted to mix the two together ahead of time otherwise it would oxidize and the beautiful red color of the meat would turn brown. Not an appealing dish once that happened.
I have been trying to figure out a way to use this dressing again somewhere but couldn't think of it until one day at work it hit me. Kabobs! I have been wanting to grill kabobs at home with some of the seasons best vegetables and the poké dressing would be PERFECT for this!
I knew I had most of the ingredients for the recipe and what I didn't have I would substitute or omit.
The ingredients for my chef's original recipe are:
Soy Sauce
Sesame Oil
Fish Sauce
Sambal
Sorghum Syrup
Gochujang
Sesame Seeds
I don't care for the flavor of sorghum so I will be substituting that with honey. The Gochujang hot pepper paste is a great ingredient that I didn't have on hand. Ultimately, I decided to omit it as well as the sesame seeds. I probably could have included the seeds but I was grilling the meat and didn't want them to burn to the point of altering the flavor.
Here is my version for the Kabob Marinade:
I marinated the meat for roughly 3 hours. At the 3 hour mark, I noticed the marinade was sufficiently saturated and I didn't want the meat to become tough. The next go around I would probably go 2 hours or 1 hour with a vacuum-packed pouch.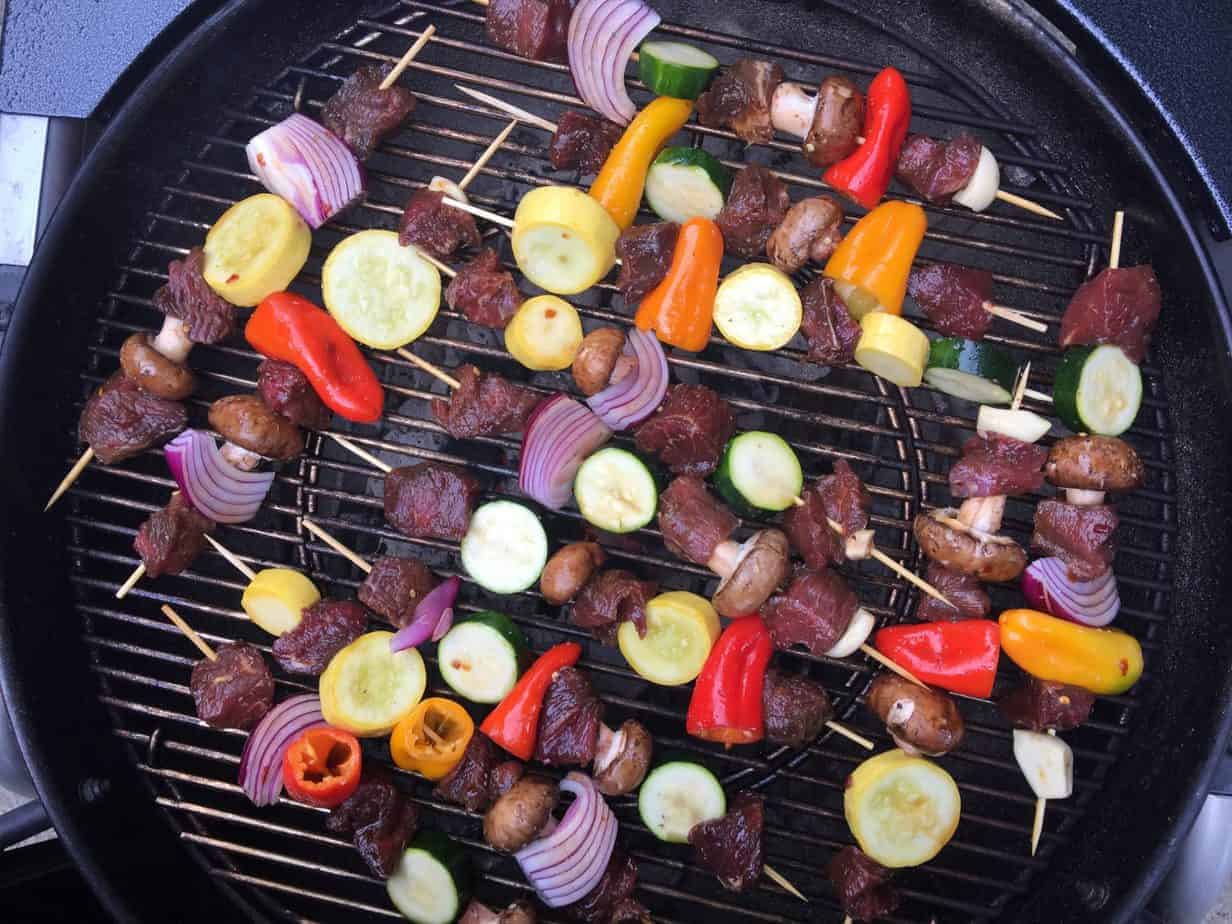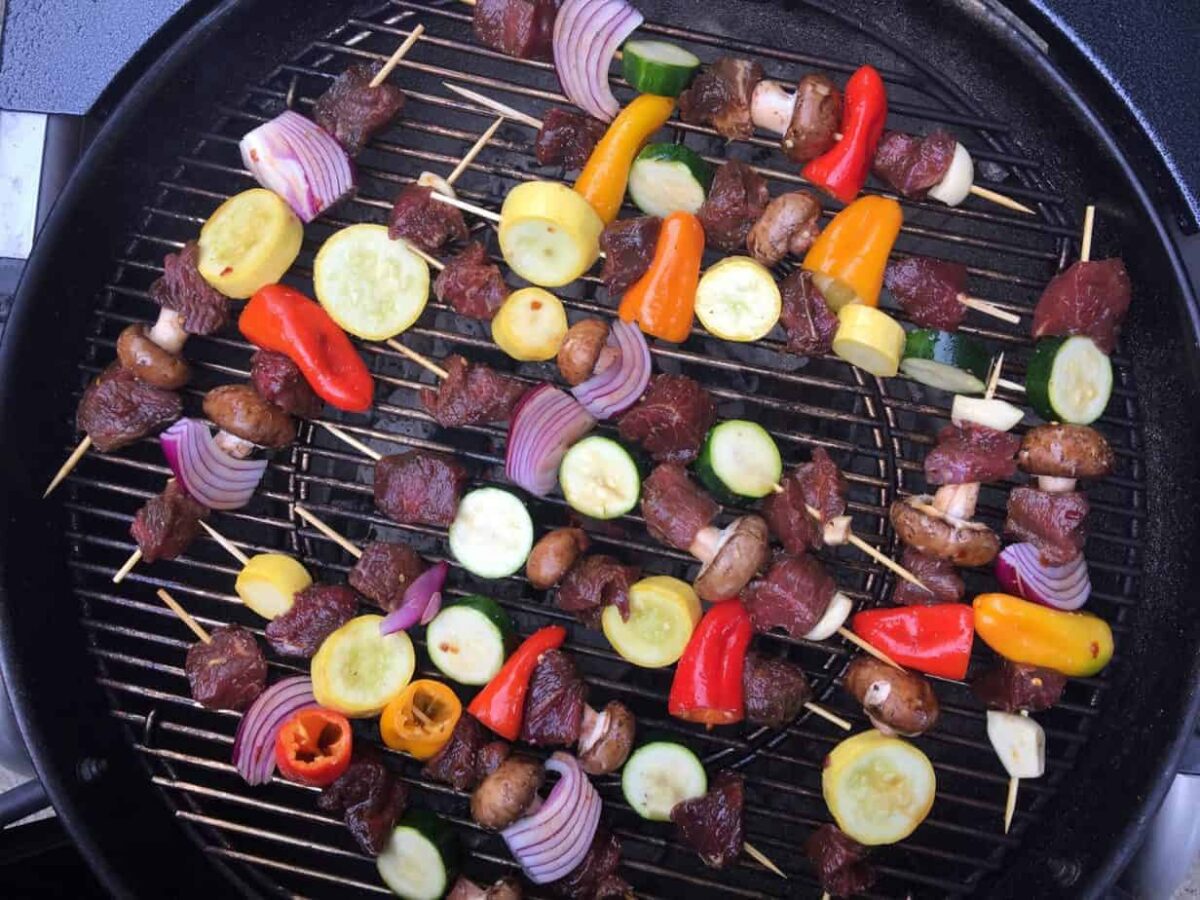 I could put together a recipe for the skewered meat but there are countless items you can put with your kabobs. I opted for 2 different types of zucchini and a nice cremini mushroom. Oh, I also put whole garlic gloves on there. Top it all off with some naan and rice and you are good to go!
If you tried the Beef Marinade recipe, please take a minute to rate the recipe and leave a comment letting me know how you liked it. Follow me on Facebook, Instagram, Pinterest, YouTube, and Twitter. Tag me with #joeeatsworld
📖 Recipe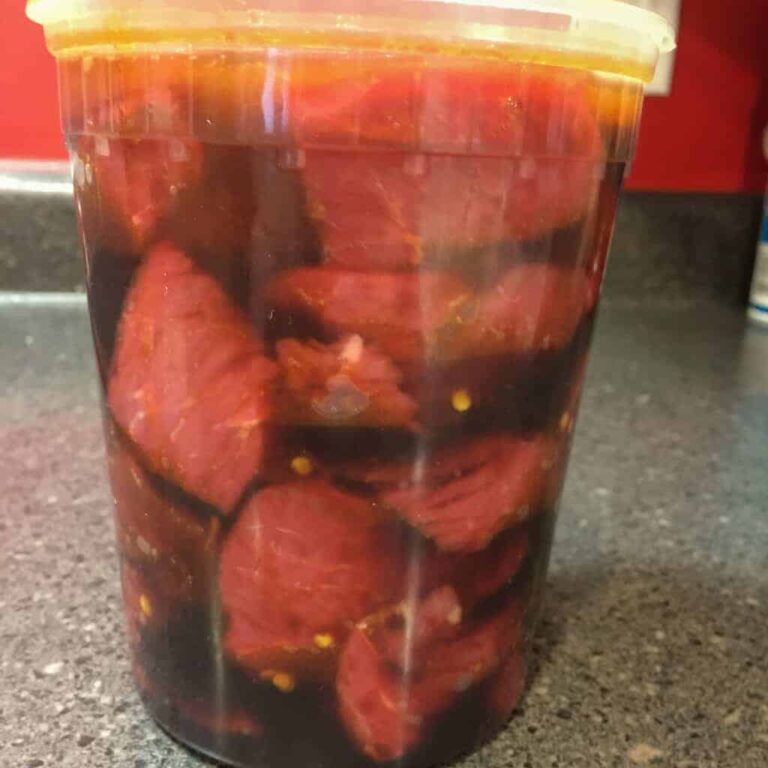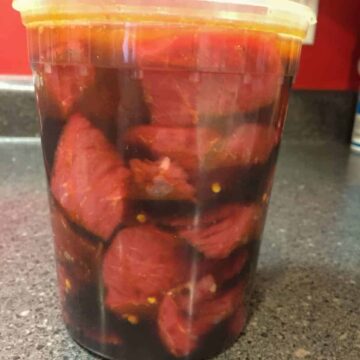 Beef Marinade
Beef marinade for any type of meat you would like to grill.
Print
Pin
Rate
Ingredients
3 ½

oz

Soy Sauce

1

oz

Sesame Oil

1

oz

Fish Sauce

1

oz

Sambal

,

or your favorite chili paste

1

oz

Honey
Instructions
Combine all ingredients in a medium mixing bowl.

Place marinade in a spill proof container and store in the refrigerator until ready to use.

When ready to use, mix meat and marinade in a mixing bowl.

Store marinating meat in the refrigerator for at least 2 hours.

Cook meat as desired. Discard left over marinade.
Disclaimer: I may earn a commission from qualifying purchases through the Amazon Affiliate program and other affiliate links at no additional cost to you.
Equipment
Calories:
500
kcal
Carbohydrates:
44
g
Protein:
9.8
g
Fat:
33.4
g
Saturated Fat:
4
g
Cholesterol:
10
mg
Sodium:
8145
mg
Potassium:
312
mg
Fiber:
0.9
g
Sugar:
34.1
g
Calcium:
73
mg
Iron:
3
mg
Keyword:
beef, marinade, shish kabob