Disclaimer: My trip was provided courtesy of a press trip but all opinions about the trip and events are my own. Please note there are affiliate links and at no additional cost to you, I may earn a commission if you make a purchase.
I had the opportunity to visit Mexico for an event José Cuervo was putting on, the unveiling of their premium tequila brand, Reserva de la Familia. The trip was all about tequila, how to drink it properly, how to pair it with food, and of course, visiting various points of interest in Guadalajara while tasting tequila along the way.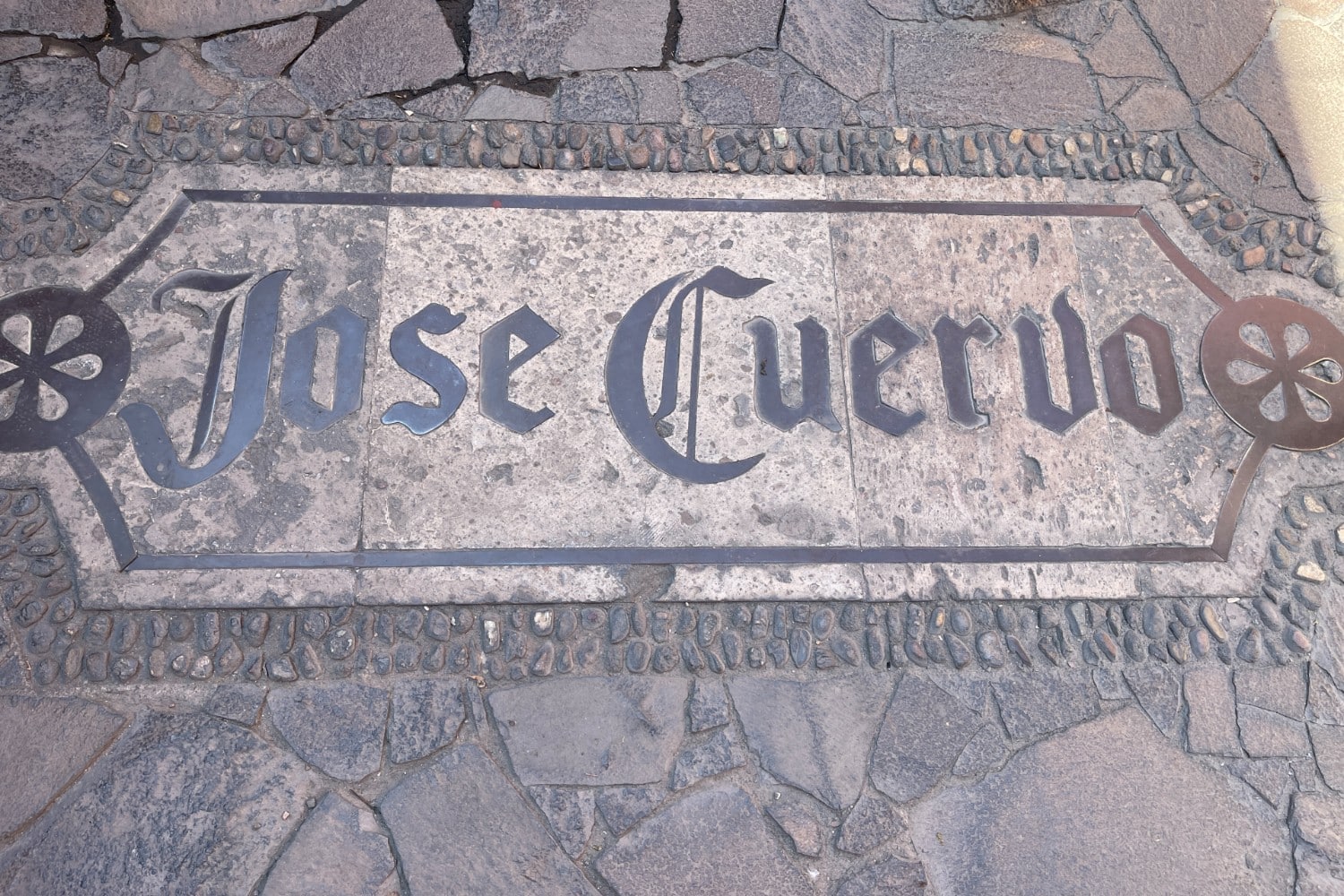 Jump to:
The only thing I knew at this point was there was going to be a dinner and an official unveiling of the artist-designed collector's box that houses the Reserva de la Familia premium tequilas. Originally, Reserva de la Familia were tequilas made for the Cuervo family and shared with their closest friends. However, that quickly changed when they realized the tequilas were too good not to share. So, every year since 1995, the José Cuervo brand has been partnering with artists around the world who have roots in Mexico to create limited-edition collector's boxes that will house their small-batch tequilas.
This year the Tercerunquinto Collective was selected for the artist collaboration and in order to prepare for the creative task ahead of them, they made the trip to Tequila, Mexico, the birthplace and home of José Cuervo. (Yes, it's a real place). They surveyed the lands in and around the town and they walked the vast agave fields to gather information – incidentally, the blue agave is where the spirit tequila comes from. Once they completed their research, they worked all that data into art.
What are the Small Batch Tequilas from José Cuervo Reserva de la Familia
Platino Tequila
Made using a proprietary process called Essencia de Agave which José Cuervo and the distillers only know. The finished product is tequila with an intense aroma and flavor of agave.
Reposado Tequila
This rich and sophisticated expression is created by using three types of wood and barrel toasting methods and a unique barrel aging process. The result is notes of baking spices with mellow toffee and vanilla flavors.
Extra Añejo
The award-winning version of Reserva de la Familia is made by using the piñas, or hearts, of 8 to 10-year-old agave plants. The aging process creates a complex tequila with a rich bouquet and an ultra-smooth taste.
I knew about the tequila but hadn't seen it or the artist's design yet but there were still a couple of days before the actual reveal. Until then, our group was going to do some sightseeing, eating, and of course, drinking. If you're ever in Guadalajara Mexico and need some food recommendations, you've come to the right place. I've added addresses and links so you can check out everywhere we ate, drank, and slept.
Restaurante Alcalde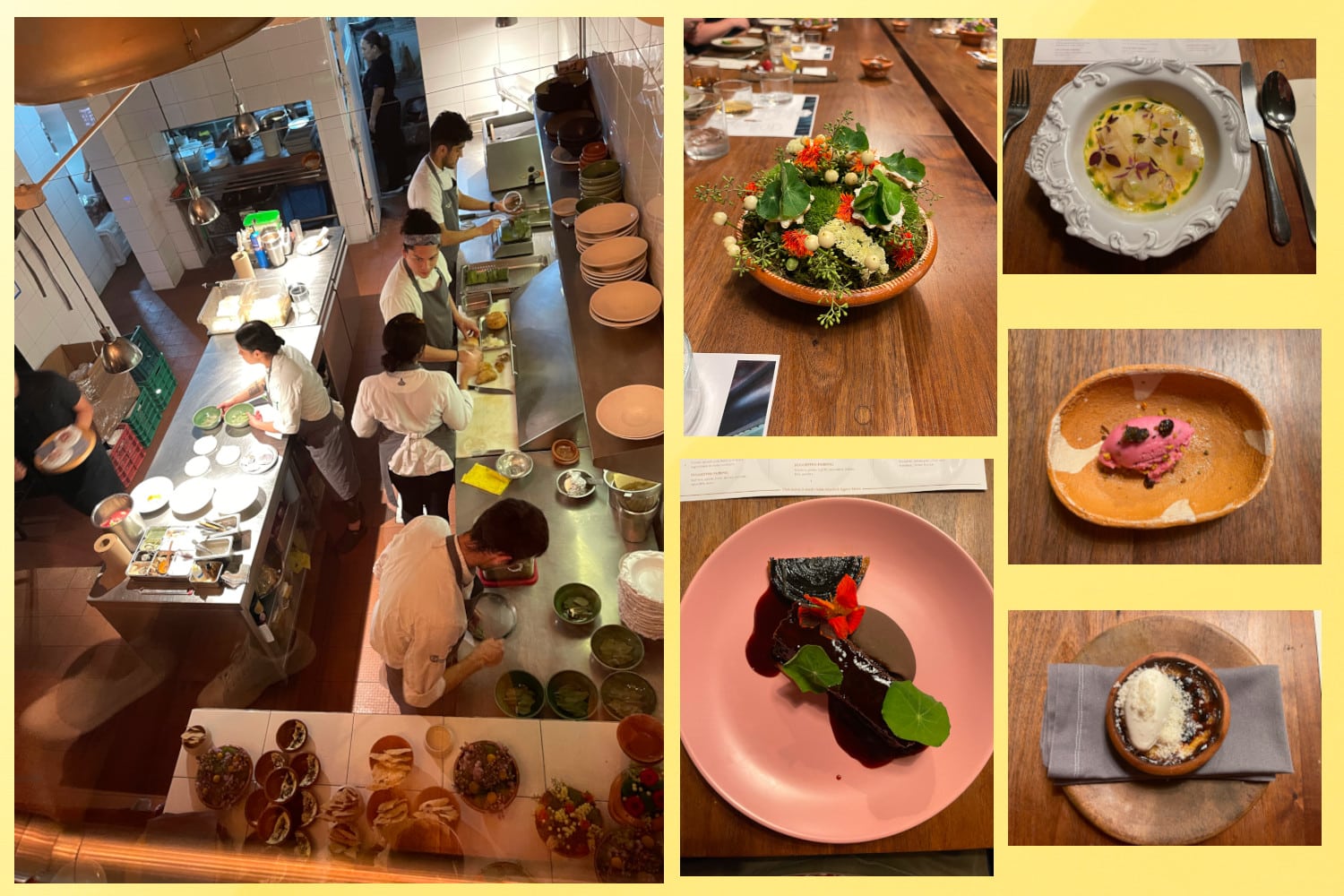 Av. México 2903, Vallarta Nte., 44690
The restaurant opened in 2013 and in 2021 made #68 in the 2021 World's Best Restaurants List and is ranked #14 in all of Latin America. The kitchen is led by Executive Chef Paco Ruano who brings his vision to the dishes and restaurant. As we walked up the stairs, we passed a glass wall, and on the other side of that wall is the kitchen. I paused a moment or two to take in the view and to watch the team at work. They orchestrated everything beautifully and I couldn't wait to eat.
While we were preparing for dinner, Sonia Espinola, the Director of the Beckmann Foundation and Tequila Maestra, was walking us through the Cuervo family traditions and legacy…and she brought tequila for us to taste. Fun fact, Sonia was one of the first, if not THE first female Tequila Maestras in a mostly male-dominated industry.
After dinner, we had a chance to continue on with cocktails at another location but I couldn't. I was exhausted and needed some beauty sleep. If you're ever in the area though, you need to check out El Habanero Negro. I hear it's great!
El Habanero Negro
C. Manuel López Cotilla 1228-a, Col Americana, Americana, 44160 Guadalajara

Enjoy more cocktails or grab a bit to eat at this lively cantina in the heart of Guadalajara. Take in the city on the colorfully decorated terrace while enjoying classic Mexican cocktails.
One of the hotels we'll be staying at is Camino Real's luxury brand collection called Quinta Real hotels. They have other locations in select cities across Mexico and they're all just gorgeous. In the 16th century, Spaniards called the route that lead into New Spain, now Mexico City, Camino Real, and was the main connection between San Antonio Texas to Mexico City. Today, Camino Real is steeped in tradition and hospitality to all that visit their properties.
Quinta Real Guadalajara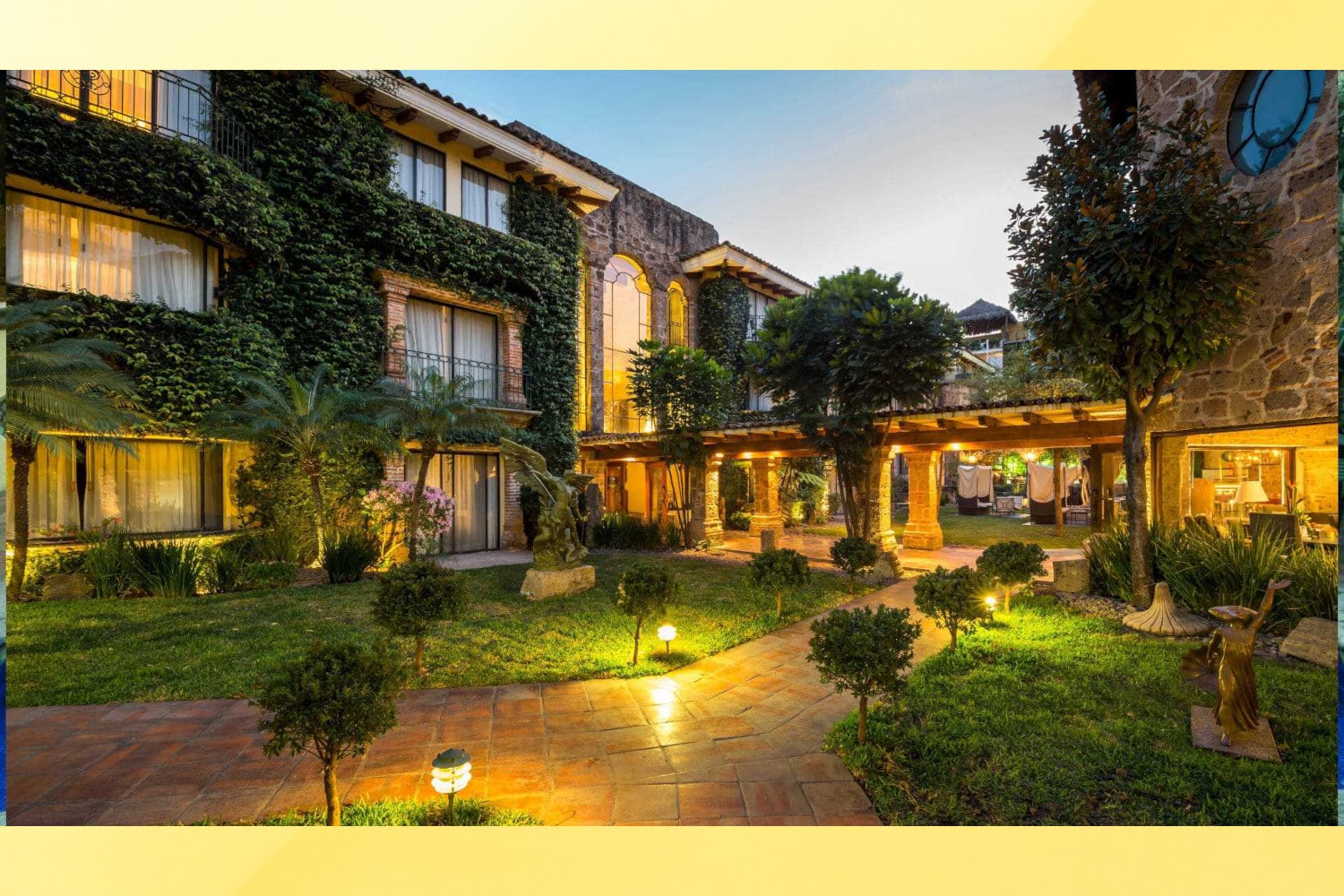 Av. México 2727, Vallarta Nte., 44690
Quinta Real Guadalajara was one of Quinta Real's first in their collection. The hotel was previously a hacienda that was converted into the beautiful property it is today. You'll be transported back to the early days of Jalisco Mexico with the period pieces of furniture and artwork. The ivy-covered facade, lush gardens, and dramatic statues drown out the sounds of the bustling city that is just steps away. Enjoy a glass of Mexican wine, or a glass of tequila in the hotel bar, or grab a bite to eat at the onsite restaurant.
The plan for the day was to have Sonia take us on a sightseeing tour which included the Arcos de Guadalajara, some art galleries, and the artist colony-turned-town, Tlaquepaque.
The Arcos de Guadalajara was erected in 1942 and stands today as the entrance to the city. It was to commissioned to celebrate the 400th anniversary of the founding of Guadalajara and resembles the Arc de Triomphe in Paris. In 1959, they added the Hall of Flags above the arcs to serve as a viewpoint of the city however in 1981, they closed the Hall of Flags to the public and installed the office of the Secretary of Tourism in the state of Jalisco.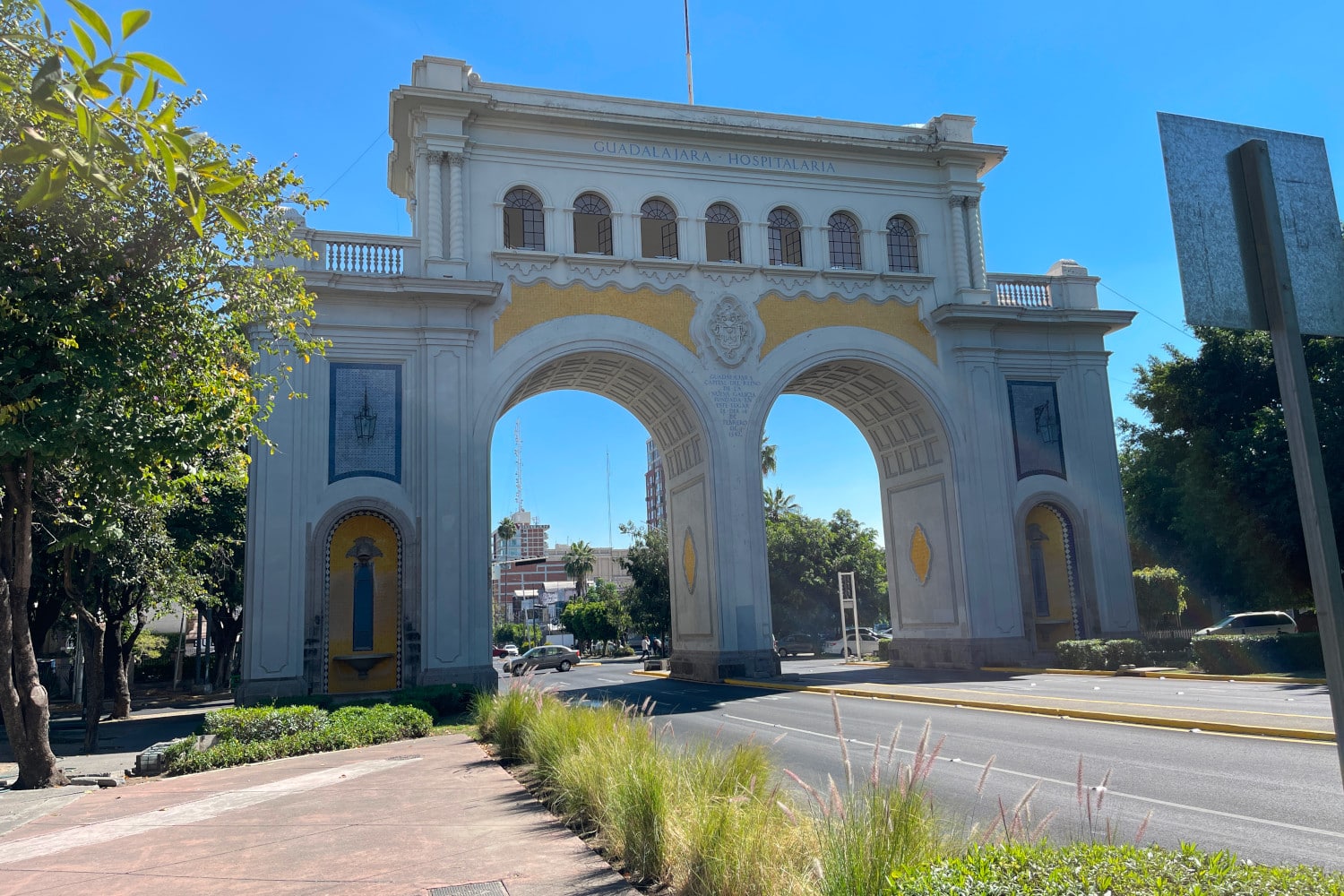 After we visited Los Arcos, we moved on to the art gallery, Curro.
The gallery was founded in 2008, then known as Curro & Poncho but later changed its name to Curro in 2013. Curro is a contemporary art gallery that includes various exhibitions all year long and holds international art fairs, and several art projects available privately or publicly.
On our way to the next location, we passed a gigantic roundabout with a monument in the center. Glorieta La Minerva is a sculpture by Jaoquín Arias created in 1956 and stands about 27 feet tall. Minerva stands as the guardian of Guadalaraja and is considered the protector of all. Truly an amazing site to see.
Up next was the beautiful city of Tlaquepaque (pronounced something like Tuh-lock-e-pa-key). It was settled by a community of artists and eventually grew into a thriving community of artists, galleries, restaurants, and shopping. Speaking of restaurants, it was time for lunch and cocktails. These are two of my favorite restaurants to experience.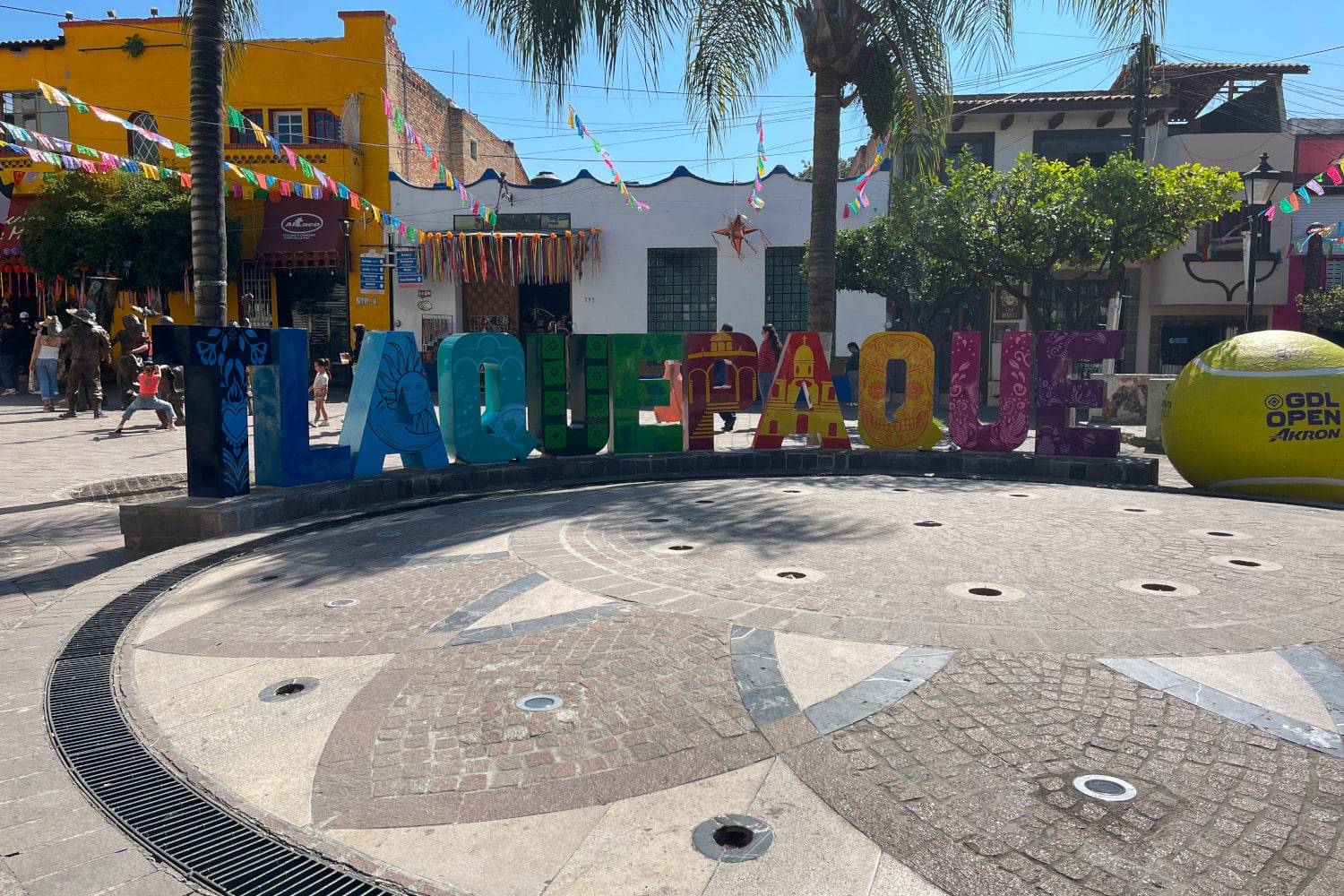 Casa Luna Tlaquepaque
Independencia No. 211 Col. Centro CP. 45500 Tlaquepaque, Jalisco
Once you step through the doorway and into the hall, you feel the space transform before your eyes. Candles, decorations, and tables align the main room along with decorated trees and a long bar against the back. It's as visually stunning as the food is amazing. The restaurant is actually part of an art gallery called Origins by Mexican designer David Luna which explains the magic of the place.
Restaurante Cielto Lindo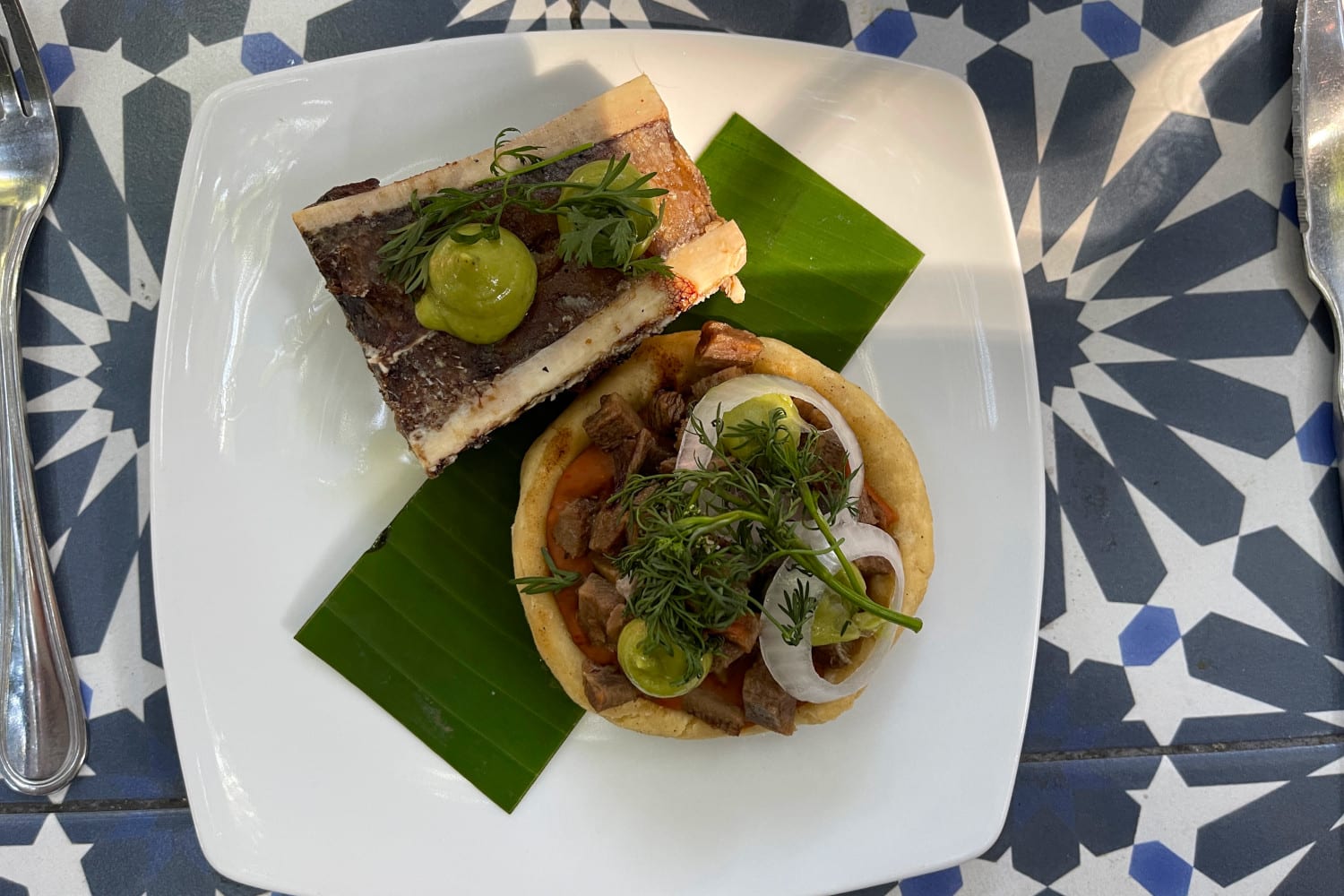 Independencia No. 208, Col. Centro CP. 45500 Tlaquepaque, Jalisco
Like Casa Luna, you walk through the door and hallway into another world. It feels as though you're sitting outdoors with its towering banyan trees, lush palms, and straw pendant lights throughout the restaurant. Toss in amazing cocktails, more Mexican food, and live music and you'll never want to leave.
We had some time left so we wandered around town, perused the various art galleries,
shops, and took a stroll through Jardín Hidalgo, a beautifully landscaped plaza. Even though the town was bustling with locals and tourists alike, it was relaxing and peaceful. As we were walking back to our shuttle, I noticed several gay couples walking down the street holding hands and I thought how amazing it was to see and how accepted they were as Mexico becomes more and more accepting of the LGBTQ+ community.
We headed back to the hotel to relax and freshen up for dinner. I know, I know. It's a lot of food. But trust me, you work up an appetite doing all the walking, shopping, and drinking! Before we headed to dinner, we found ourselves having pre-dinner cocktails in the hotel bar. I had this great Mexican wine when I was in Puerto Vallarta a month or so before so I figured I would try out another Mexican wine and then head to dinner.
Hueso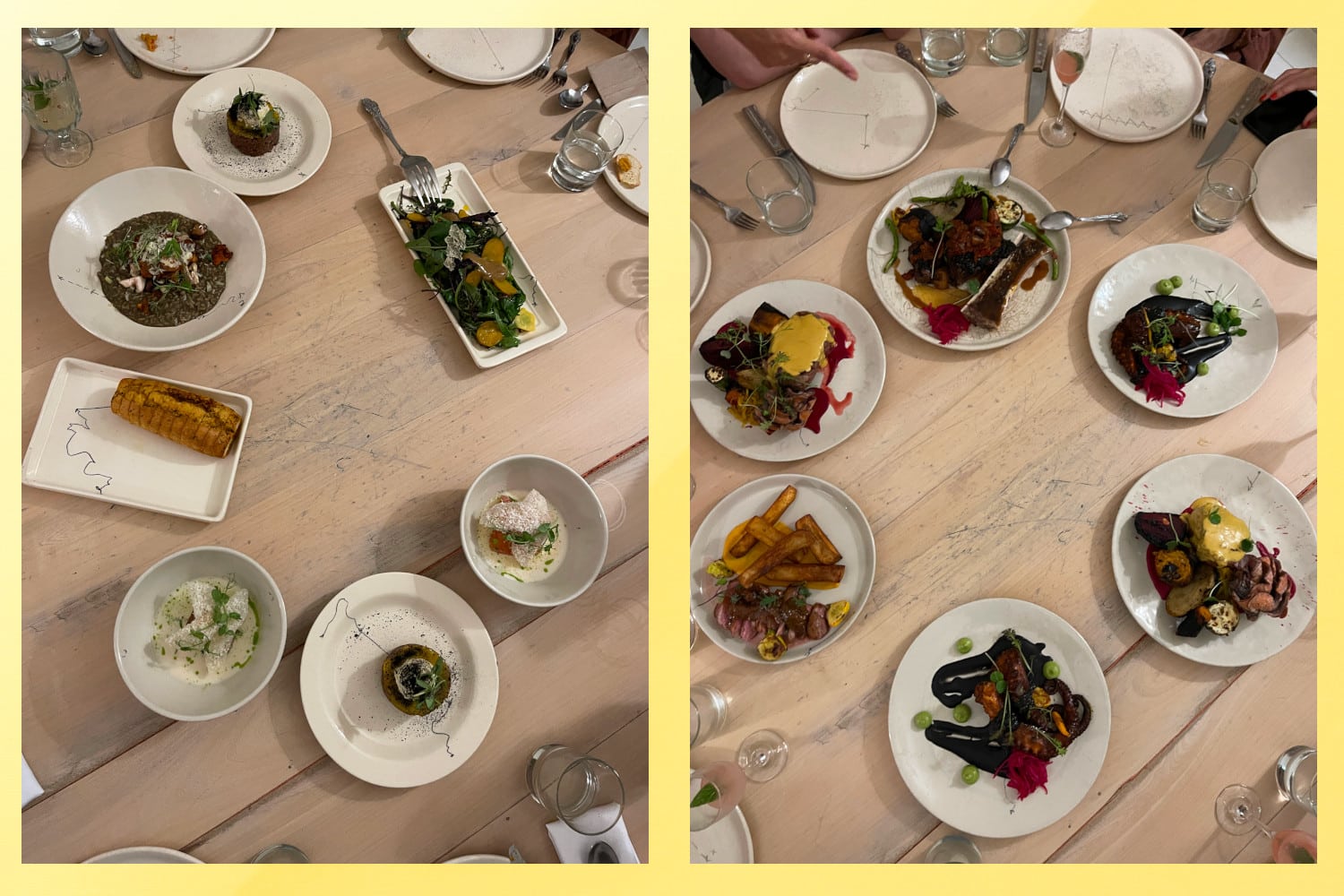 Calle Efraín González Luna 2061, Col Americana, Obrera, 44140
Hueso means "bone" in English and you wouldn't know why until you step into the unassuming building. Once through the doors, you'll notice everything is white. The all-white decor and on the walls, bones. The building is a remodeled 1940s house and displays over 10,000 shark, bear, deer, boar, and other animal bones from all over the world. Chef Alfonso Cadena leads the restaurant and team to create excellent dishes on the ever-changing menu.
I hate to say it, but I was exhausted after the day of shopping, eating, and drinking and we had the opportunity to visit a speakeasy and I didn't go. I was simply stuffed and exhausted…More beauty sleep because the next day we were off to another town.
Fat Charlie
C. Manuel López Cotilla 1940, Col Americana, Lafayette 44160
Bartenders mix up fresh and seasonal ingredients in this speakeasy setting. The location of Fat Charlie's is in a popular area of Guadalajara so there is no shortage of nightlife.
We were up early, packed, and ready to make our way to our next destination. Tequila Mexico. Yes. It's a real place. And yes, it's as amazing as it sounds. It's a bit of a drive to get there, just over an hour but the drive is nice especially if you're not doing the driving. Once you get out of the city, you're on a highway flanked by rolling hills that soon turn into agave fields. Imagine driving through Napa Valley California and seeing all the vineyards. That's exactly what it's like, but with agave.
Once we arrive in Tequila, we head straight to our new accommodations, which is also owned by José Cuervo. We don't have long because we are supposed to head out to our next excursion so we have enough time to unpack, rest a bit, and off we go again. Here's a bit of information on the town: Tequila was founded in roughly 1530 and received municipal status around 1850. It's a UNESCO World Heritage Site and holds The Mexican National Tequila Fair every year from November 30 to December 10.
Solar de las Ánimas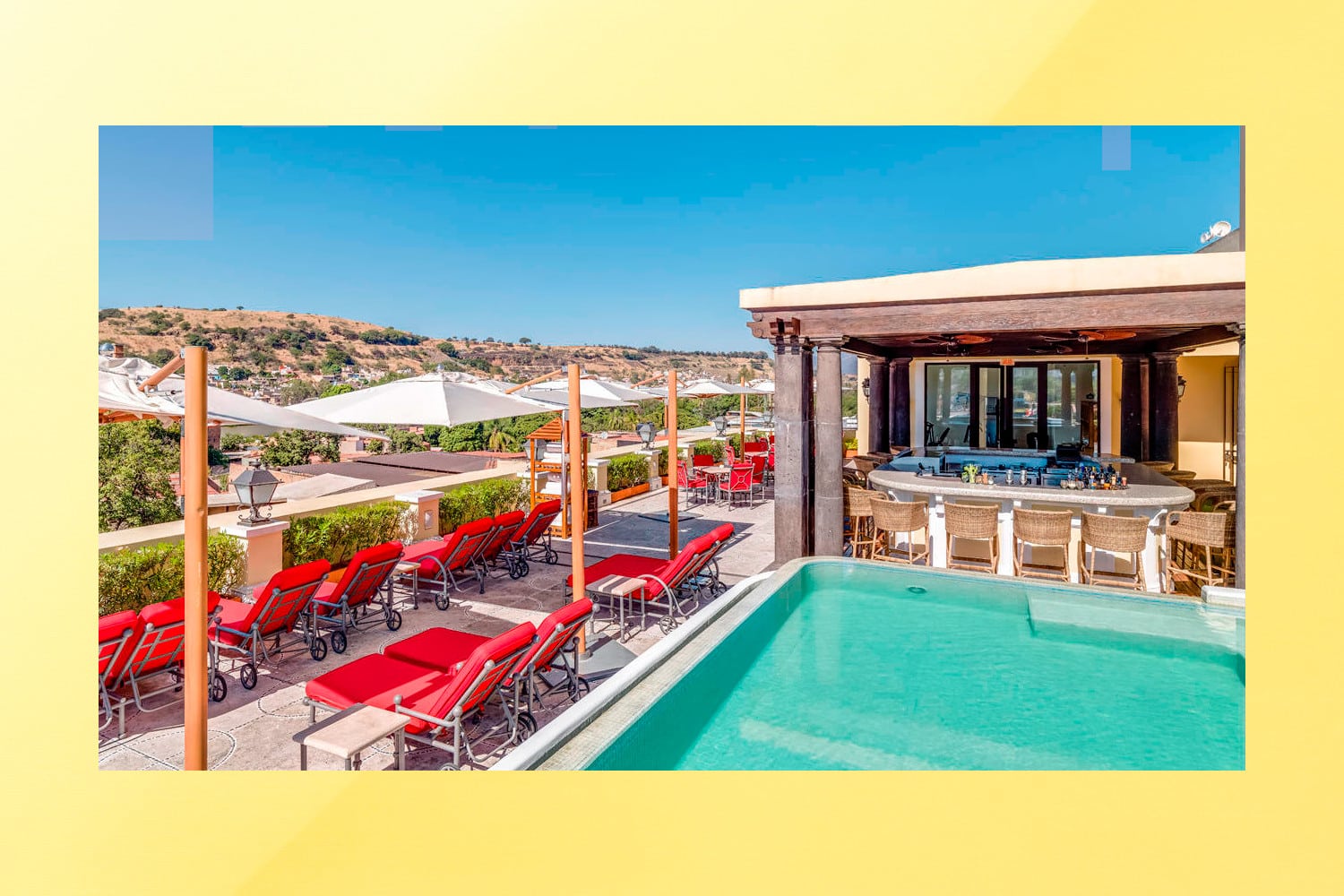 Ramón Corona 86, Centro, 46400 Tequila Jalisco
As you walk through the double doors, the main desk is right in front of you, and to your right is a long hallway, and on the left is a ramp that rounds a corner. The hotel is definitely larger than I thought. There are 5 floors, 93 rooms and everything is state of the art and comfortable. I didn't really explore the hotel other than checking out the swimming pool that was tucked away and the sky bar. What can I say about the sky bar that you wouldn't already expect? It was amazing. It had sweeping views of the city, bistro chairs for dinner and drinks, and a wrap-around bar, and a soaking tub. Imagine sitting rooftop next to a soaking tub, or IN the tub, having cocktails while taking in the sights of this almost 500-year-old town.
Our first outing was to the José Cuervo agave fields to watch an agave harvesting demonstration. Agave plants are still harvested by hand by Jimadors who use a long flat-like shovel called a coa. The agave reaches full maturity between 8-10 years and this is when the Jimadors come in and harvest the piñas and prepare them for delivery to the distillery.
After we watched the demonstration and walked around the fields a bit, we headed back to the town to visit the oldest active distillery in Latin America and where José Cuervo is produced.
La Rojeña Distillery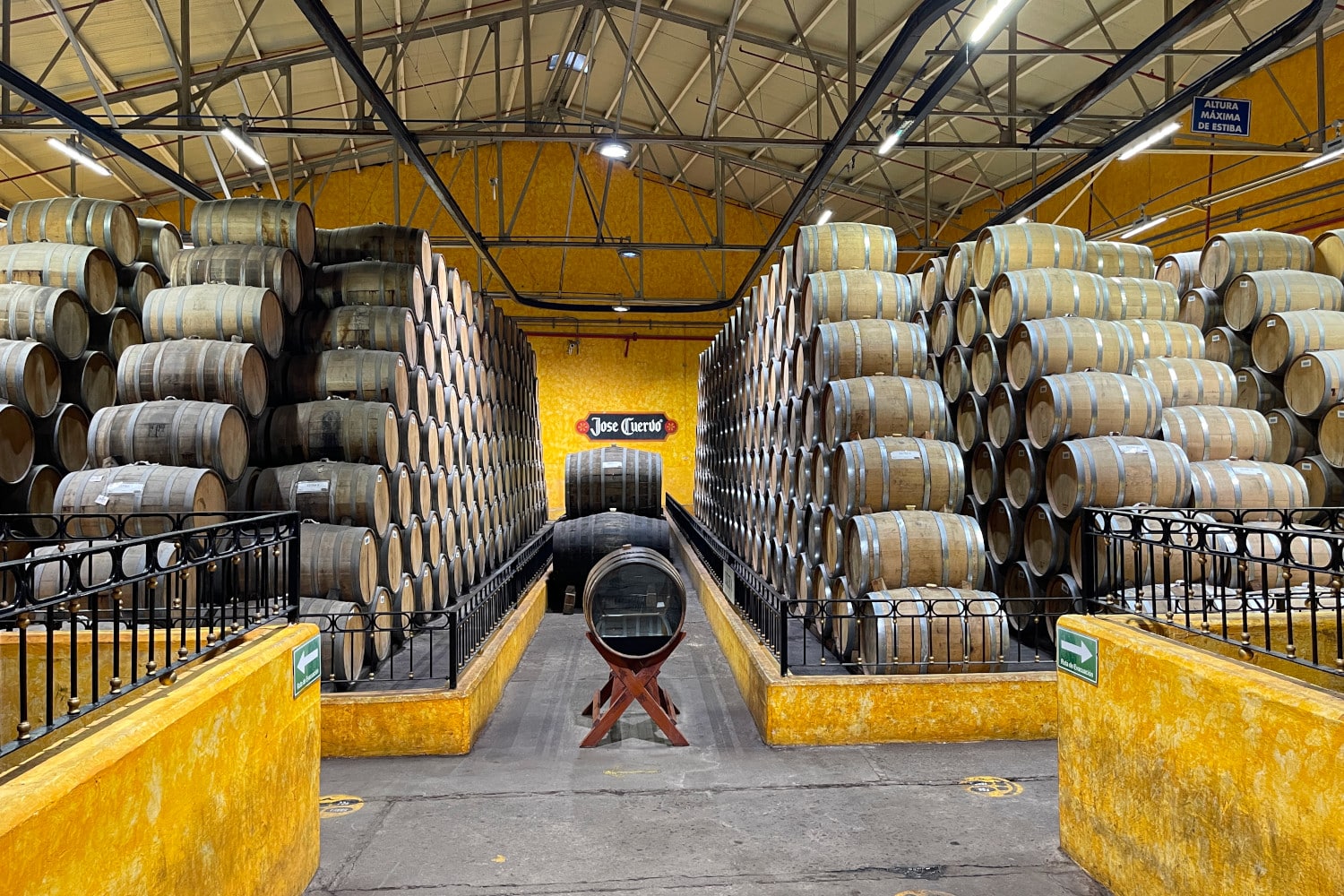 José Cuervo #73, Centro, 46400 Tequila Jalisco
The distillery is quite large and we toured just about every part of it. You can watch them cut the piñas, place them in the oven to roast, watch them be shredded, and then on to pressing and processing and finally, distilling. After the distilling process, you can head over to the packaging area. Each bottle is hand-blown, labeled with a wax seal, individually numbered, and wrapped and packaged in the Tercerunquinto artist collector's box.
After the tour, we had lunch at Patio Mexicano and more tequila. The tequila certainly does flow like water around there. Once lunch was over, it was time for a siesta in preparation for the big event.
The Reserva de la Familia Artist Dinner and Reveal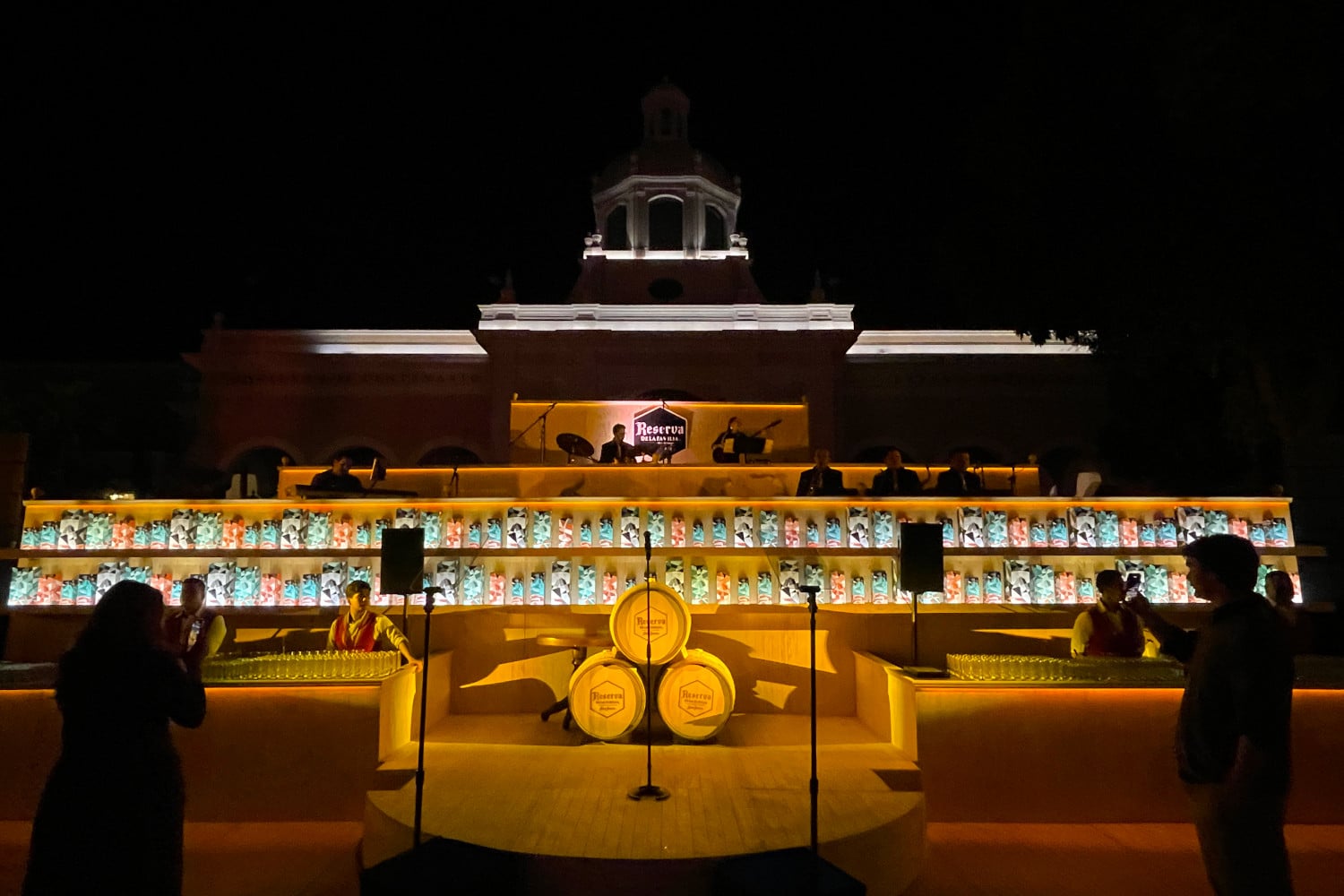 There was a cocktail hour at the Beckmann Cultural Foundation center before dinner and as we walked in, we were handed champagne flutes of tequila. Anyone who is anyone in Mexico was here and it was a huge celebration in anticipation of the big reveal. The cultural center housed art, artifacts, and family heirlooms passed through 11 generations of Cuervos and it was amazing to walk through so much history. We eventually made our way to Hacienda el Centenario where dinner and the party were taking place. Stunning doesn't even begin to describe the grounds, decor, lighting, and sculptures.
The event started with dinner by Executive Chef Paco Ruano from Restaurante Alcalde, drinks, and live music. Bottles of wine, tequila, and tequila-themed cocktails flowed well into the night. I think we had our dessert course at about 11:45 pm. Suddenly, the music stopped and the presentation of the new tequila started.
After the big reveal, fireworks filled the air and a light show danced on the main building of the Hacienda. Now, it was time to party with all the formalities out of the way, the floor opened up to dancing and everyone was soon on the dance floor or refilling their tequila glass. I don't think I have ever had this much tequila in my life but it was an amazing experience that I won't soon forget.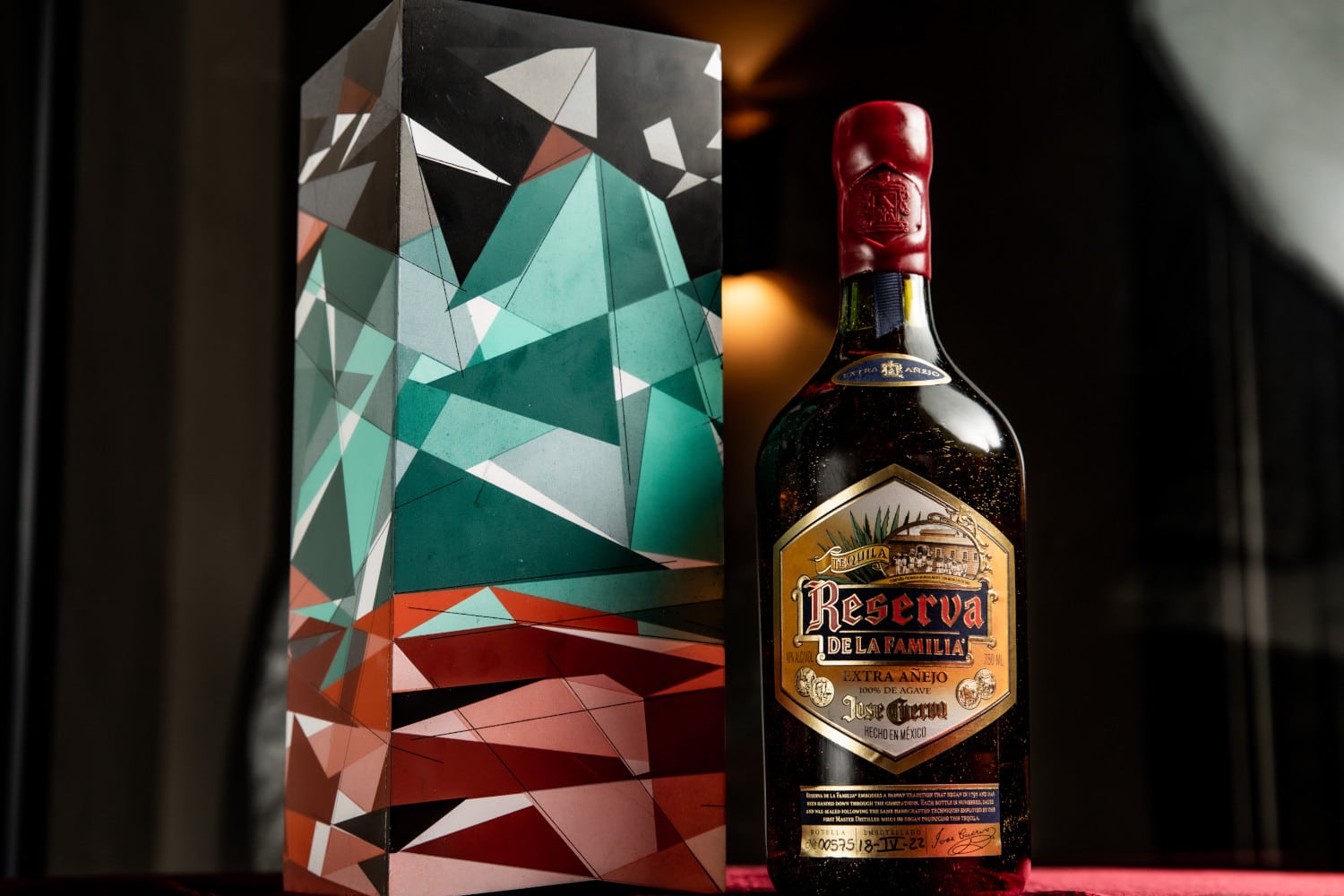 Mexicans sure know how to throw a party and José Cuervo certainly knows how to make tequila. It was great to see that they are giving back to the community and caring about the land and the people who helped them get to where they are today. Learning the history of the town, José Cuervo's humble beginnings, and how generations pushed the tequila forward through the years was a beautiful story to hear.
Do yourself a favor and try the Reserva de la Familia tequilas. You won't be disappointed. I do have my favorite but I'll let you decide for yourself.