Disclaimer: My trip was provided courtesy of a press trip but all opinions about the trip and events are my own. Please note there are affiliate links and at no additional cost to you, I may earn a commission if you make a purchase.
Whiskey has been hitting the shelves left and right lately taking up aisles and aisles. All good things if you ask me. I took a quick trip out to Atlanta for a review of Slane Irish Whiskey. I know what you're thinking. Atlanta and Irish Whiskey? I was waiting for the connection but there wasn't one, except for the people I met but let's start from the beginning, shall we?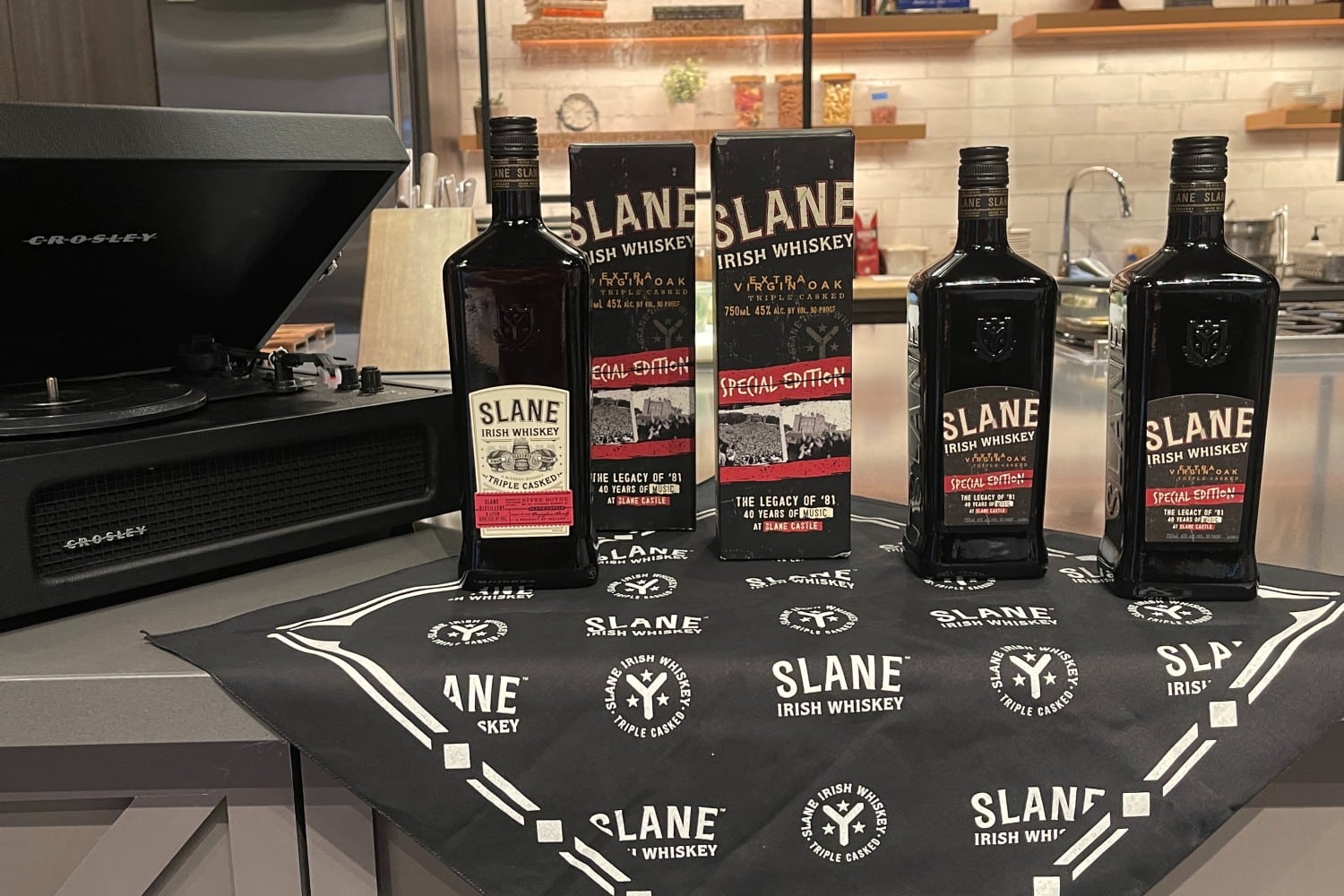 Jump to:
Visiting a Garden That Gives Back to the Community
The first thing on the list is to visit a place called A Sip of Paradise. This non-profit garden space caters to bartenders and people in the hospitality industry. It's a place where everyone can gather for specific events, help maintain the garden, borrow from the garden, and create a sense of community. It's a safe space where you can recharge the body, mind, and soul through gardening and health and wellness programs and so much more.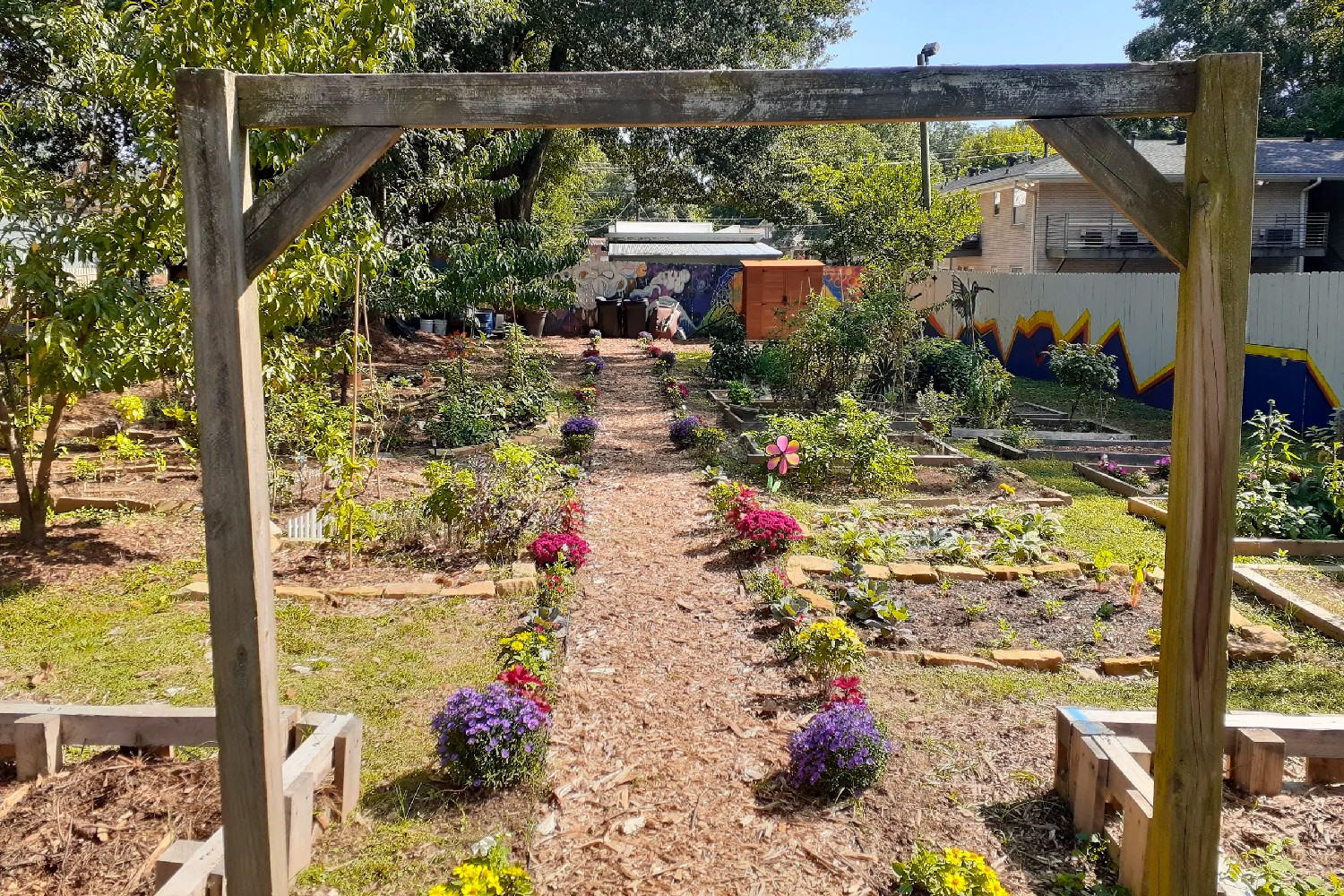 As the day unfolded, we learned how the garden space was created, why it was created, and how it thrives. Anyone in the hospitality industry can tell you that it is sometimes grueling hard work. It takes a toll on the body, mind, and at times, the spirit. Walking among the various plants and flowers, you get a sense of grounding. You take care of and nurture these plants so they will grow and thrive in the sultry weather. You leave your troubles behind as your focus turns to the garden, the people, and the stories they share.
As luck would have it, it poured down rain and we couldn't go out and weed the garden. Then the rain stopped. Then it started again. Then finally, it stopped. During the rain, we huddled together under pop-up tents and shared stories and cocktails. We learned the stories of a few members and we learned how they give back to the community that has helped them along the way.
This. This is the connection. Slane Irish Whiskey (and company) is long rooted in community, music, sustainability, and a yearning for leaving the world a better place than they found it. Cliche, I know. But the work that A Sip of Paradise does on a daily basis is the same work Slane Distillery is doing. Building a legacy.
These people are more than mere bartenders, mixologists, and drink slingers. There were trailblazers and celebrities in their own right. They were are giving back. They were are making a difference. All the while making amazing cocktails.
A Sip of Paradise's principles are easy. Come together as a community. Partake in the care of the garden space, take what you need, and give what you can.
Inside the Epicurean Hotel Atlanta
I was staying in the heart of Midtown Atlanta at the Epicurean Hotel. This isn't your typical run-of-the-mill hotel–it's a food-themed boutique hotel. Instead of checking in at the front desk or speaking with a concierge person, you actually check in at the host desk inside the first-floor restaurant called Reverence. Upon checking in, you're offered your choice of a complimentary beer or glass of wine. (impressed already).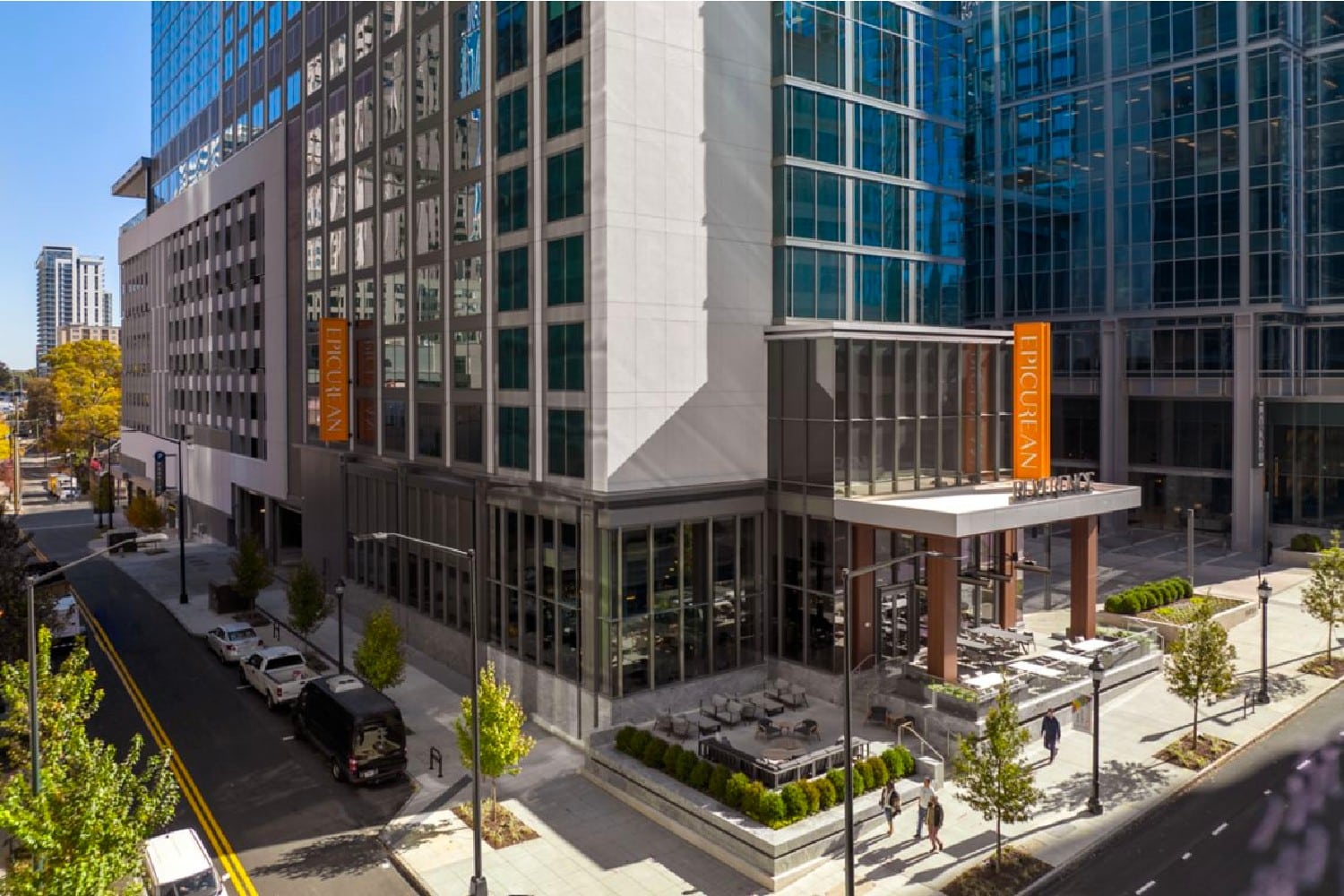 Each floor is food themed. I happened to be staying on the Pinot Noir floor. Fitting I know. I have the sense that it didn't matter what floor I was on! The room was great and wouldn't you know, there was a bar with snacks. Not one of those tiny little minibars, but a full-on wall dedicated to all things booze. There were shelves with wine on them, spirits, and snacks. Some were complimentary so as I sipped my complimentary wine, I had some snacks as I relaxed and pretended to get some work done before meeting the group downstairs.
Reverence is the main restaurant where you not only dine and drink, but this is where I checked into my hotel. It's an open kitchen concept with plenty of seating in and around the kitchen. Elegantly designed and decorated to make you feel right at home.
If you want a bit more casual, you can head to Aerial Kitchen and Bar situated next to the swimming pool and cabanas. Seating is like sitting in your familiar backyard and hanging out with friends. The open concept means you're sitting outside enjoying the weather.
If you're not quite ready for dining, you can head over to The Office Bar and cocktails. Don't worry, if you do end up getting hungry, you can order from the eclectic menu.
Perhaps the shining jewel of the hotel would be the cooking theater. The Epicurean Theatre is built for demonstrations, teachings, or any group event where you can learn various cooking techniques.
There's a Sky Terrance where you can take in the views of Atlanta's skyline or just lounge around on the large lawn space taking a break from work, or perhaps you're working remotely. It's a perfect setting to do that.
Cooking Demonstrations with Whiskey Pairings
Most of the amazing people we met in the garden were attending the dinner along with a few local writers, bloggers, and fellow lovers of food. One of the Slane Irish Whiskey Ambassadors was there to give us a bit more history on Slane Distillery.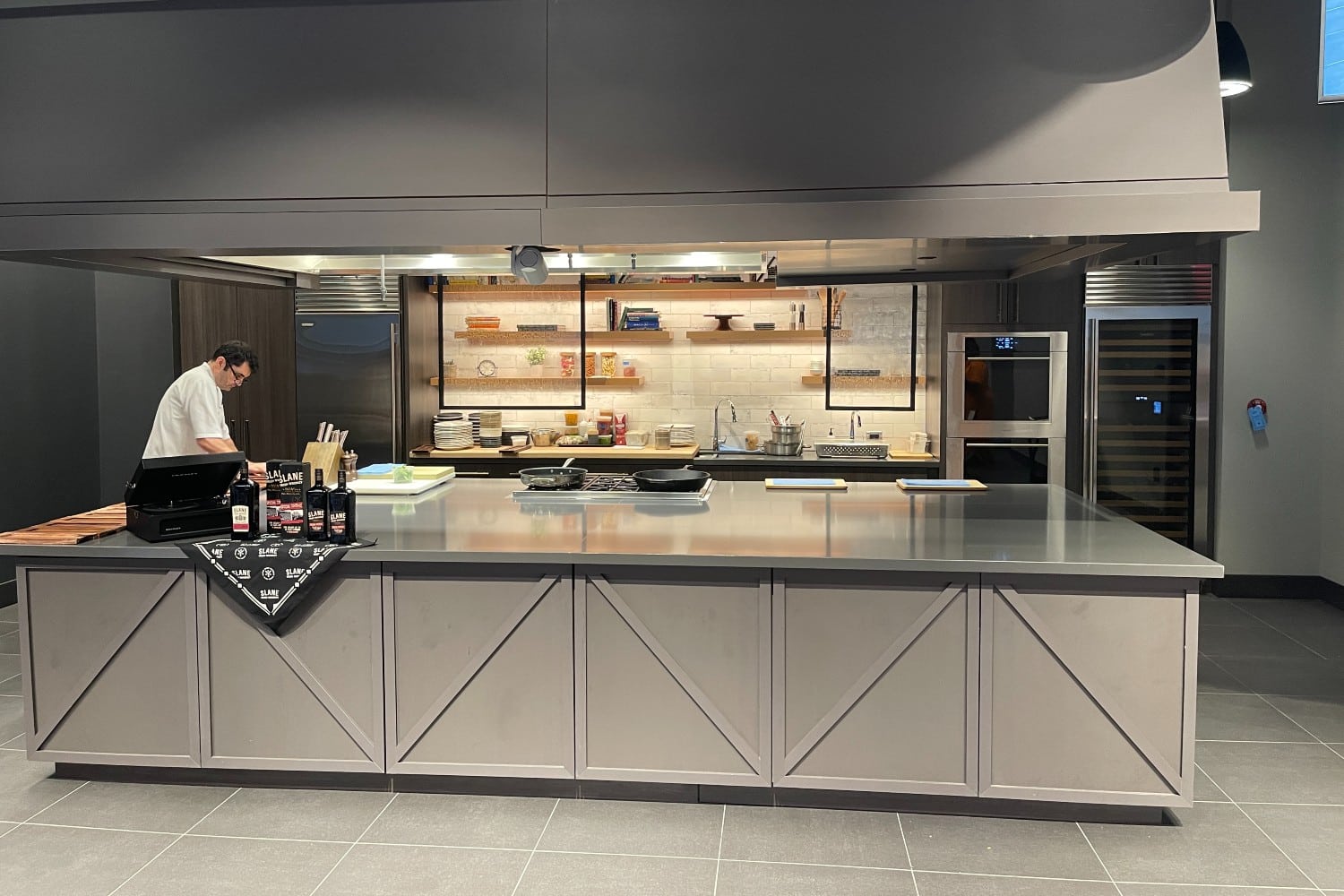 Slane Irish Whiskey is triple distilled and triple casked using virgin barrels, seasoned barrels, and sherry. Slane works on sustainability, renewable energy, and a lower carbon footprint. Toss in the whiskey, music, and oh, a rebuilt Irish Castle and you get some pretty amazing history. The castle is used for tours, weddings, and music venues. Some of the biggest names in music have either visited or played at the castle.
Our dinner was a paring of three different expressions of Slane's whiskey. Dinner was a four-course experience where we feasted on chilled half-shell oysters, hot and sour pork belly bao buns, scallops n grits, and orange-cured summer peaches. We finished off the evening with another Slane Irish Whiskey coffee old fashioned. Honestly, I didn't think I was going to sleep that night but curiously, it wasn't a problem.
Having Brunch Before Heading to the Airport
The next day we set out for The James Room. Their website opens with We're a Vibe and I have to agree. We were told about The James Room but upon arriving and walking through the glass doors, you're taken aback because we were supposed to have cocktails and brunch with Tiffanie Barriere. Instead what I walked into was a coffee and pastry shop with a few tables to either side of me and a coffee counter directly ahead. Intriguing.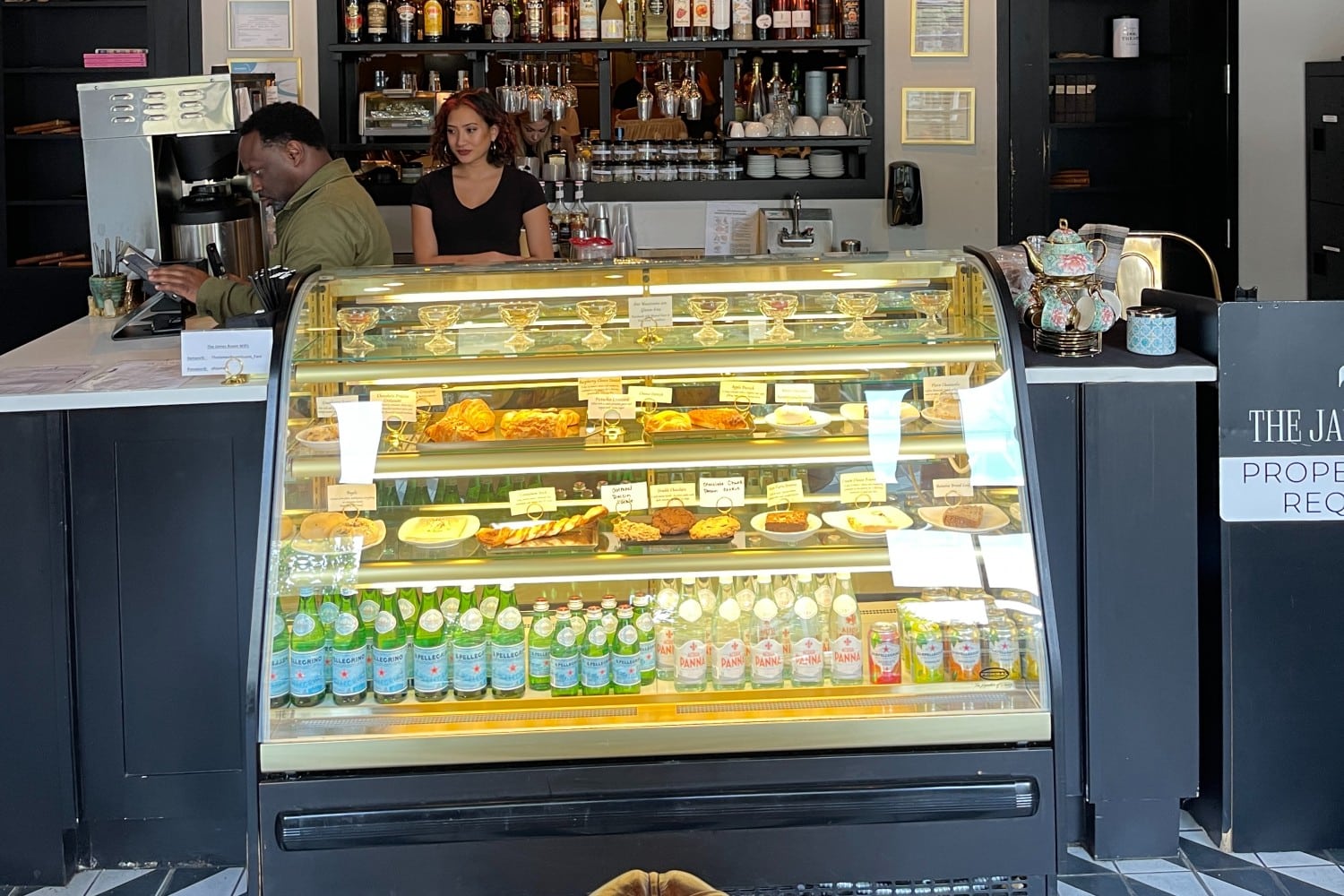 As we were talking, one of our new friends came walking through one of the side doors and asked us to follow her. Blown away doesn't even begin to describe what happened next. You know that point in Wizard of Oz when Dorothy walks around her house after the tornado and it's filmed in Black and White and then she opens the door and walks outside into technicolor? That's literally what happened to me. As the door opened, another world opened up.
The room was perfectly lit, to my left was a very long wrap-around bar and behind (or in front, depending on how you're standing) were various seating booths with velvet and leather seats. Words of welcome and greetings came from all around as we reunited with more of our friends from the garden.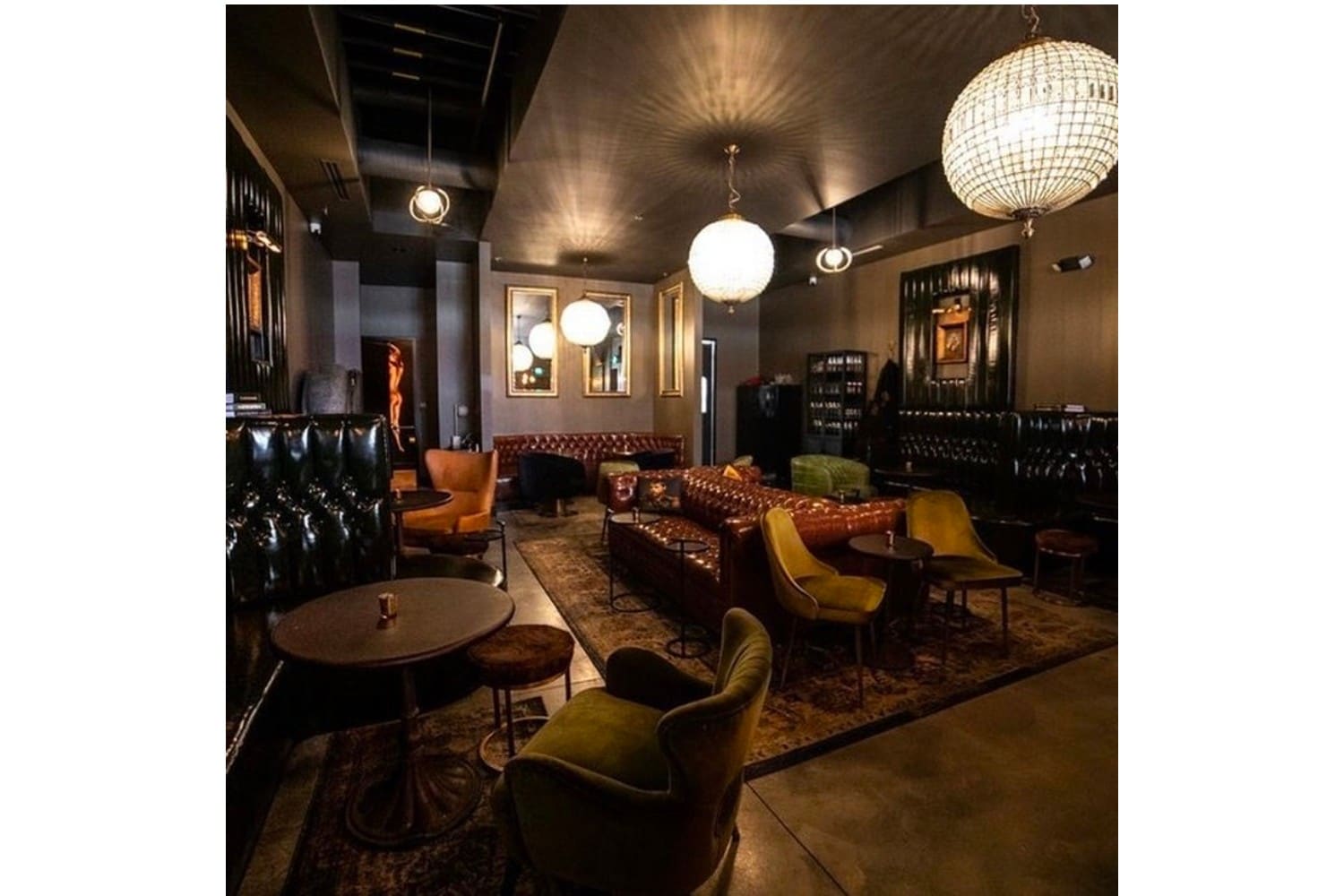 As we were waiting for brunch, we stood around with cocktails of course, and chatted about the previous day's events when we were almost rained out of gardening! Once brunch was out of the way, it was time to get busy, we were there for an Irish coffee workshop after all. Obviously, we were going to be using Slane Whiskey as the main ingredient. We received a demo of how the Irish coffee is built and then we were on our own to recreate said coffee. We all did pretty well if you ask me but then again, it was 10:30 in the morning and we were already on cocktail two or three and we were flying out in a few hours.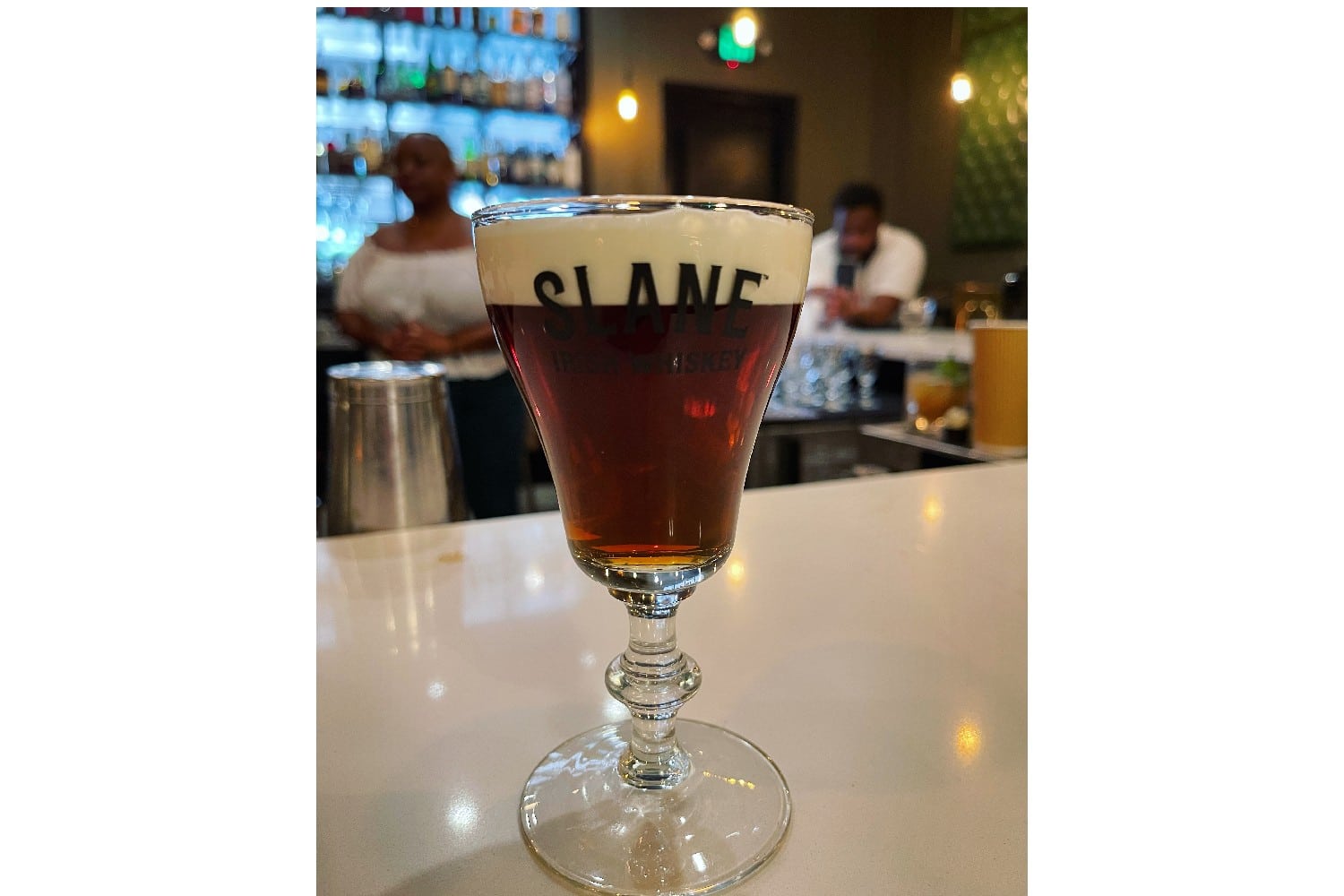 It was a whirlwind event. In less than 24 hours, I met some of the most amazing humans, had some amazing cocktails made from Slane Irish Whiskey of course, ate some absolutely delicious food, and at noon I was on my way back to the airport. My only regret is that the events didn't last longer. It was definitely not enough time to explore and experience the wonders that Atlanta's food scene and cocktail scenes have to offer. Especially that hotel. My God, that hotel.
One More Whiskey Tasting at Home in Chicago
Fast forward a few weeks later as I'm back home in Chicago, I get invited to a dinner and whiskey tasting for Slane. Unfortunately, I wasn't able to make the dinner but I did get a chance to hang out a The Kerryman and experience blending my own whiskey and tasting even more Slane Irish Whiskey concoctions.
We laughed about the rainstorm in Atlanta and talked about how amazing the people were, how good the food was, and how we went through A LOT of whiskey. One of the reps from a GlenDronach Scotch and Cheese pairing event I attended was there and we talked about how amazing everything there was.
If you're a whiskey fan, you should do yourself a favor and pick up a bottle or 2 of Slane's. They're making some pretty good stuff. Even though they're a young-ish company, they have some great things on the horizon.