That time I hung out with a marshmallow expert
How I came to work with Chicago's leading marshmallow expert was just by fluke. I was perusing Instagram and came across a chef who focused solely on marshmallows.
We chatted for a few months and one day she invited me to come work with her for a day. I thought why not? It would be fun. I'd learn all about the world of marshmallow and get to network all at the same time.
I arrived at an unassuming production kitchen entrance called Wonderland Productions with a colorful rainbow over the words. I knocked, met the chef, Melissa, and she gave me a quick tour around the quaint kithcen.
One quick look around and I realized she is probably the FIRST chef and kitchen that is absolutely organized. I mean, everything was (and probably still is) neatly placed in its own home. As an OCD type fella, I can appreciate that.
I change into my kitchen shoes, put on my hat, and wash my hands. I'm now ready to get down to marshmallow business!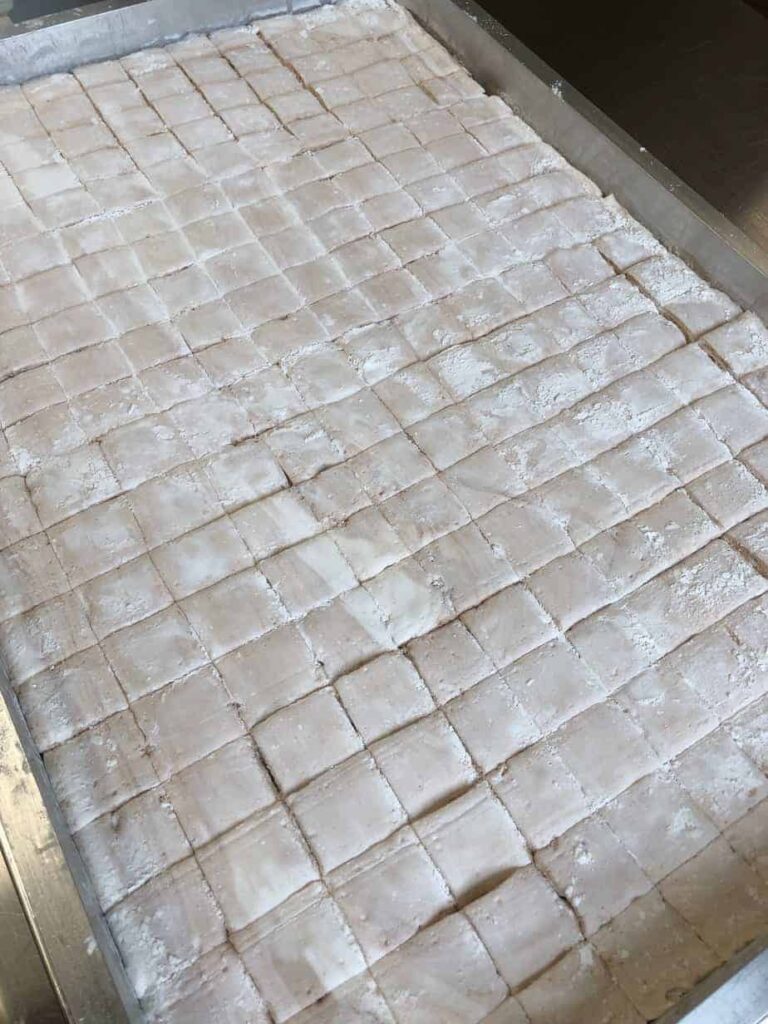 The first order at hand is to cut the sheet trays of marshmallows. You'd think it would be pretty straightforward, it's not. In fact, for some reason, I was a little nervouse about it. Melissa said you SHOULD get 240 pieces out of one tray. That means, squares evenly cut into sections...oh boy. No pressure…
I get to cutting. I think I may have messed up. They don't seem as uniformed as they should be but Melissa assures me they're fine. I look at ther to see if she is just saying that to be nice and she's never inviting me back...but no. She laughs and says they're good. Whew. I mean, the last thing I want to do is screw up someone elses process. But I may have. Ugh.
After I've cut the "mallows" as they call them, I now get to add a little cornstarch and powedered sugar to them (so they don't stick) and I get to pull them apart and toss them in the powder mixture.
Now, I don't know if you have ever pulled apart marshmallows but let me tell you. That was one of the most satisfying things ever. You can pull on these guys and they stretch but they don't break becasue they're already cut. It was SO MUCH fun. Once they're pulled and powdered, into the bin they go for packaging.
As I was doing all the cutting and pulling, Melissa was prepping the mixers for the marshmallow ingredients. She has all of the recipes written down but she literally makes thousands of these a week so she knows exactly what the measurements are without looking.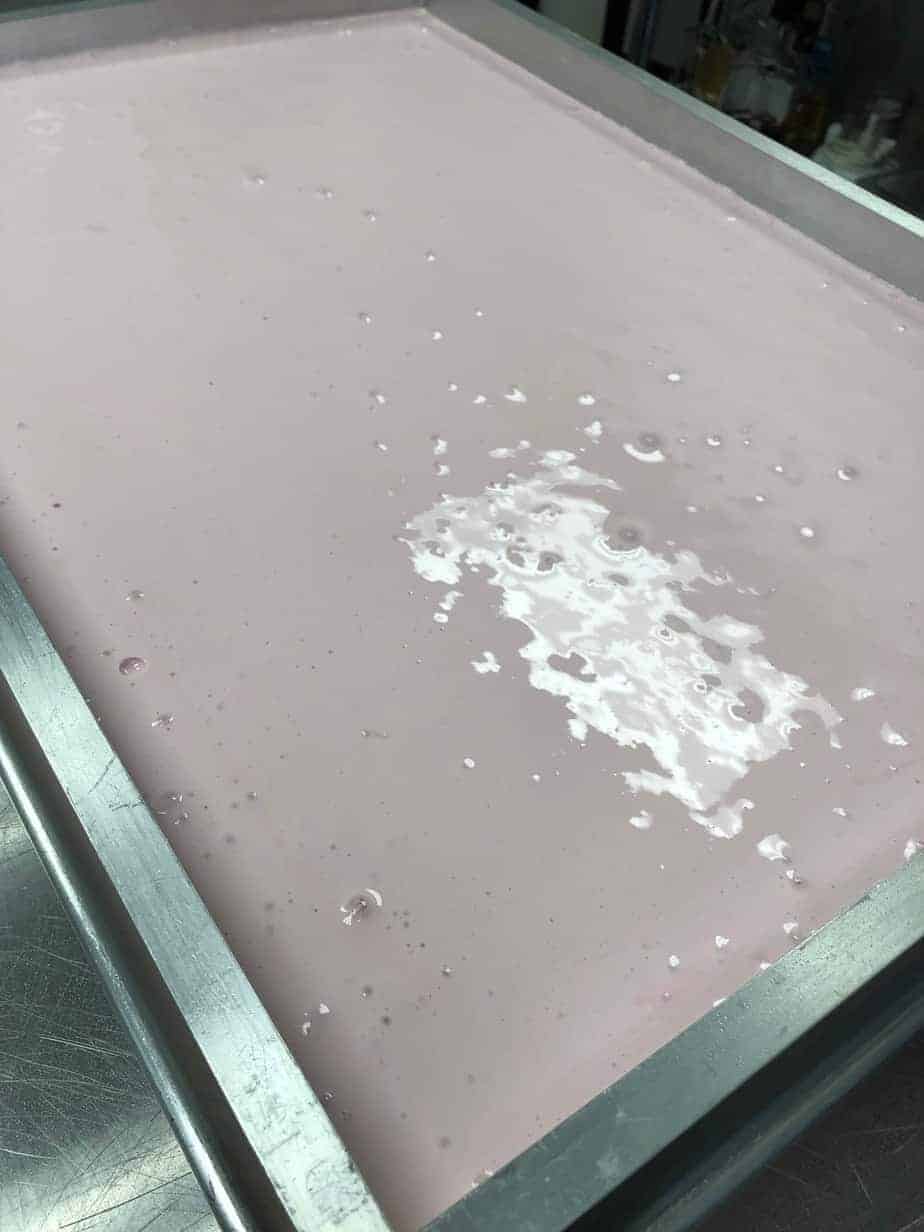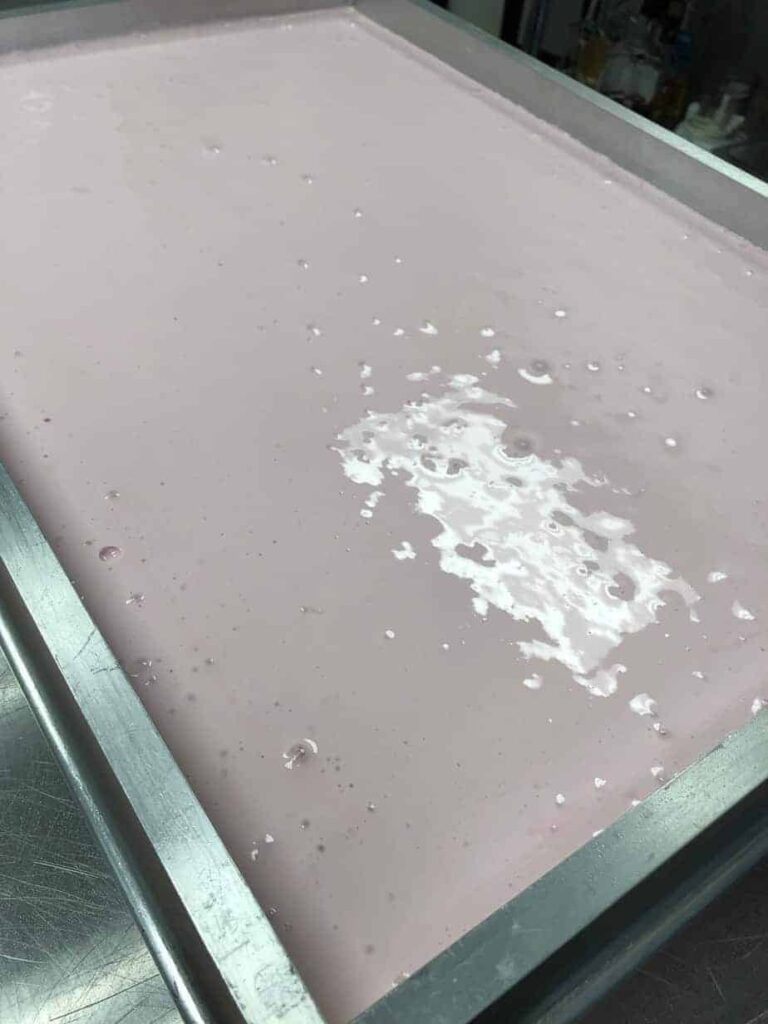 I won't give away her ingredients or secrets, but suffice it to say, it's such a fun process to watch. In fact, as I was writing this, I watched one of the videos I took of the Cosmo marshmallows and it's mesmerizing. I watched her go throug a few batches of marshmallows and then pour them into the sheet trays for setting.
My NEXT task was to meausre out and mix together the Rice Krispies® and marshmallow to make their Marshamallow Dream Bar.
Now mind you. I wasn't a fan of marshmallows to begin with and I certainly wasn't a fan of Rice Krispies Treats® but let when they're made fresh, with no preservatives, AMAZING.
Back to that Cosmopolitan marshmallow though...I almost died at the amount of vodka that goes into those things. Talk about boozy! haha (Most of the alcohol does burn off in case you're wondering.) As I was watching the mixer do it's thing, you could smell the vodka wafting through the air. Somebody grab me a straw quick!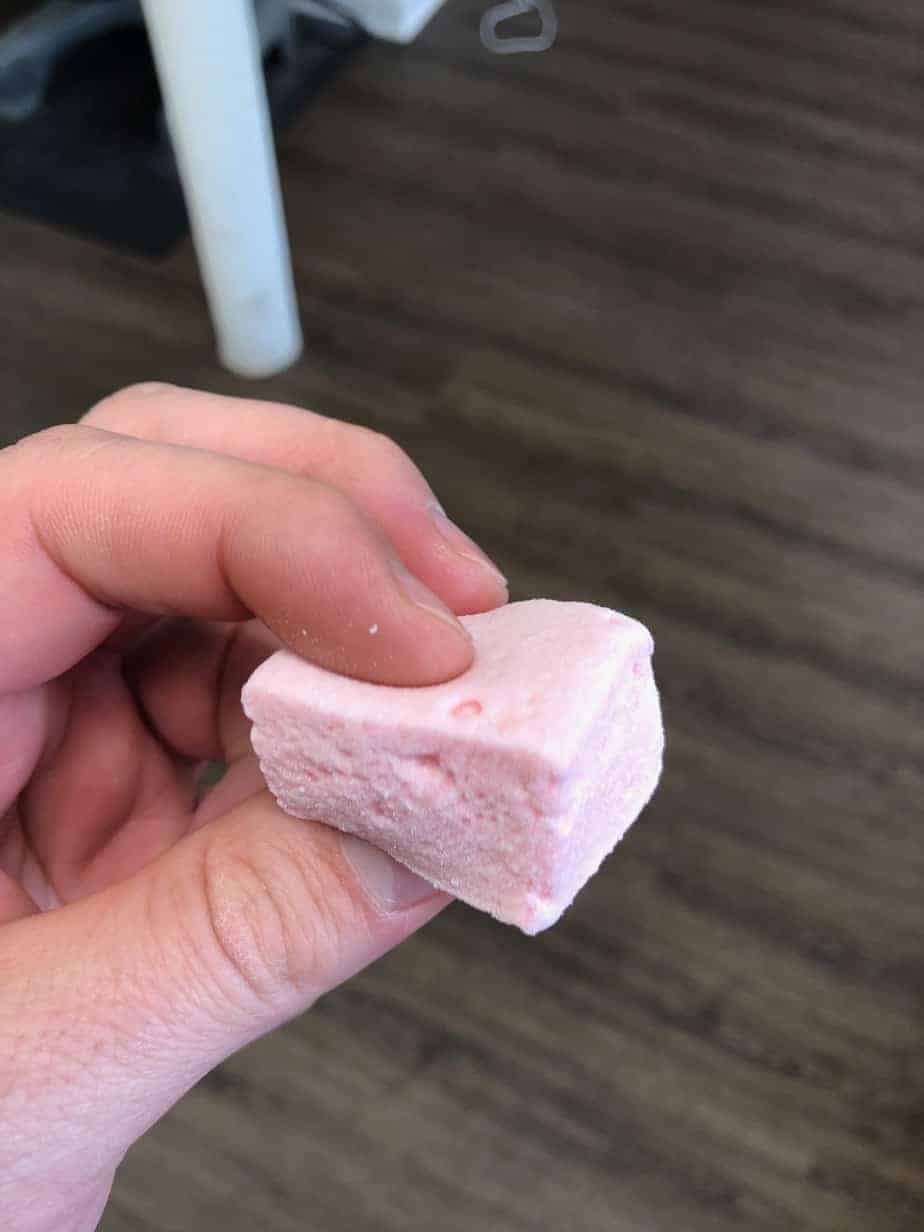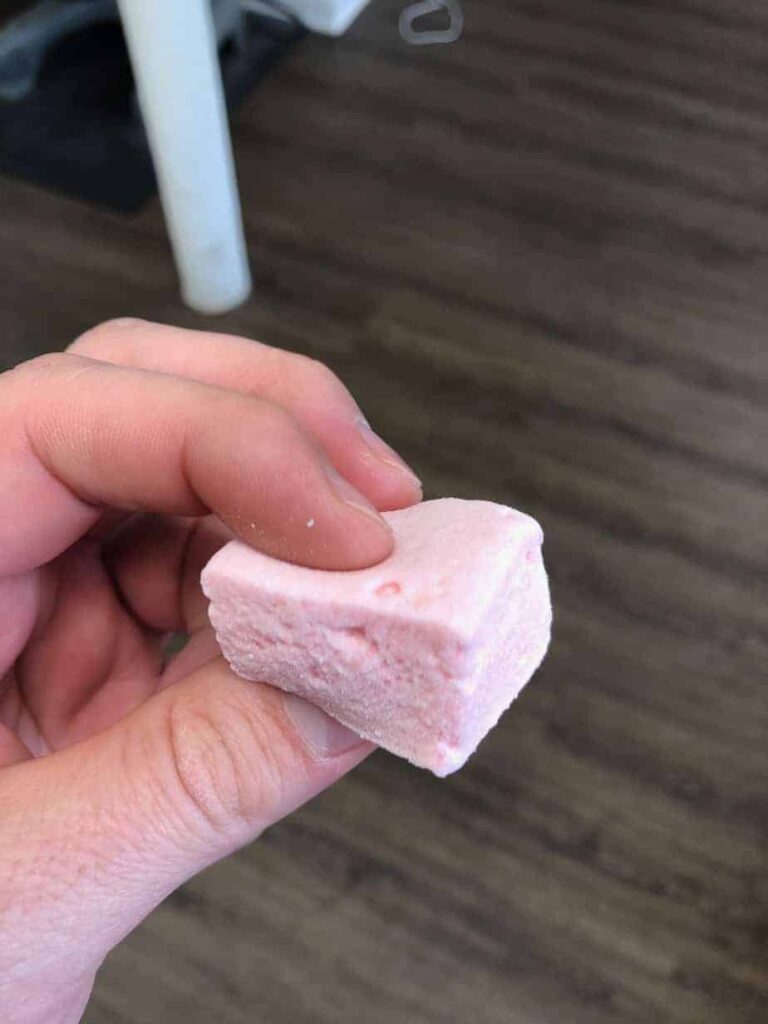 They also offer a strawberry CBD marshmallow that was pretty tasty. It was 10 mg and no, you do not get high from it but it will relax you. Get them while you can though. They sell out fast.
If you have a major sweet tooth or just love marshmallows, you should definitely check them out. They do a lot of mail order as well. I've seen the picture...trust me when I say it is A LOT.
As a kind gift for my services, they sent me on my way with a few parting gifts: Nutella, Bourbon, Lavender Honey, and Flaming Hot Cheetos flavored marshmallows. Here's where it gets tough though. When I was cutting the marshmallows, I could smell the Lavender Honey and they smelled AMAZING. They weren't bad but here are my favorites, in this order: Bourbon (because, you know, bourbon), Flaming Hot Cheetos (so sweet and spicy good), and Nutella. I couldn't finish the Lavender ones. They smelled better than they tasted but I bet you already knew that. Sorry XO peeps, it just didn't work for me.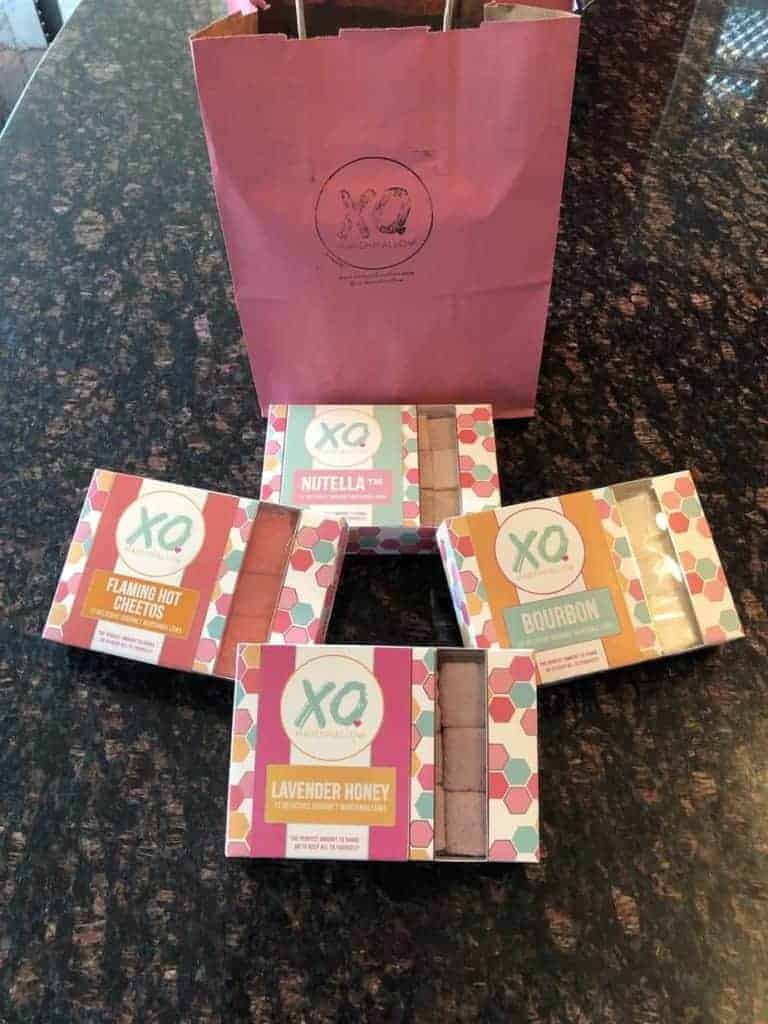 I did get the chance to meet the owners Katy and Lindzi. Katy and Lindzi are the owners of XO Marshmallow as well as the adjacent Nibbles and Nosh coffee shop. They have a great story and a great concept. They're equally as funny as Melissa and I can see why they all make such a great product. It was so much fun to work there even if it was just for a day.
If you're in the Chicago area, check out the first ever marshmallow cafe
XO Marshmallow 6977 N Sheridan Rd Chicago, IL 60626 or if you want to order them and have them mailed to you, their website is www.xomarshmallow.com. Either way, tell 'em Joe the intern sent you.
It was such a great day. I am so glad I was invited to hang out and learn about the world of marshmallow. They may have made a new convert...